Problem with DatabaseExampleSetWriter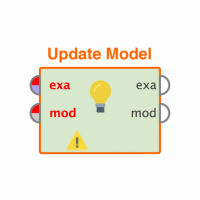 Legacy User
Member
Posts: 0
Newbie
edited November 2018
in Help
Hi Ingo, Hi All,
I have a problem with the operator DatabaseExampleSetWriter. I tried an experiment where I want to "merge" (neither Join, nor Merge, nor anything else) two examplesets outside RM with raw SQL handling.
For that, I installed mySQL and WampServer on a standalone PC. I have verified access rights on a database I have created, called "travail_rapidminer". With or without password, RM does not seem to access this database properly, as I asked it to overwrite output exampleset onto it.
Here is my XML process code :
http://www.mediafire.com/?dummdgmlnm8
and the error box :
http://www.mediafire.com/?tplmnymxxiy
At last, here are my settings on database side :
http://i33.tinypic.com/t9f5tf.jpg
And here is the dialog box that appears before the error box at running :
http://i37.tinypic.com/10y2gwn.jpg
I precise that passwords are coherent, despite the XML experiment does not seem so on this point. Is it a bug, or did I misuse the operator ?
Cheers,
  Jean-Charles.