NominalToNumerical inconsistency with different sources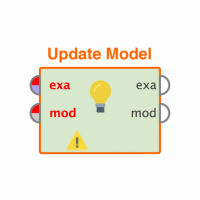 pablo_admig
Member
Posts: 5
Contributor II
edited November 2018
in Help
The situation could be replicated with the Template "Apply to Test Set" having, i.e., one nominal column, and changing the kNN model for a Neural Network.

So, in order to use the Neural Network (or any alghoritm that does not support nominal attributes), I have to convert that attribute to a numerical one with the NominalToNumerical operator, and RapidMiner does a "mapping" of each category. For example, the operator reads category "Sunny" in that column and assigns the number 1, reads the category "cloudy" and assigns the number 2, and so on.

The problem comes when this mapping or conversion is not the same in Training and Test set, because I need two NominalToNumerical operators, (Training and Test set), and they are not related, so each one will convert the category into numbers following the natural order of each table. For example, if the first record of the training set has "Sunny", it will convert into 1. And if the first record of the Test set has "Cloudy", it will convert into 1 as well ! So for the neural network Cloudy=Sunny, turning this into a serious problem.

I want to know if it has a solution into the RapidMiner enviorment.

Thanks in advance,
Pablo.