CSVDataReader and Operator.apply method Issues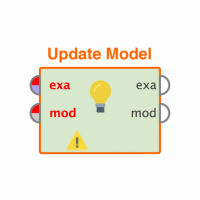 jaysonpryde
Member
Posts: 20
Maven
edited November 2018
in Help
Good day,
I'm new to rapidMiner/rapidMiner development. I am currently creating a java application that does simple classification.
However, i am encountering 2 issues inhibiting me to proceed to further development:
1. [CSVDataReader]: No operator description object given for 'com.rapidminer.operator.io.CSVDataReader'
    - I am receiving the said exception when I ran this code snippet:       
Operator unlabeled = OperatorService.createOperator(CSVDataReader.class);
2. Operator.apply method is already deprecated   
unlabeled.apply(new IOContainer());
    - as stated, .apply method of Operator object is deprecated. Are there any replacement(s) for this. Currently, I am doing it the long way.
      That is,      

Process csvProcess = new Process();
csvProcess.getRootOperator().addOperator(unlabeled, 0);
IOContainer c = csvProcess.run();
ExampleSet es = c.get(ExampleSet.class);

Hoping to hear any feedback from you guys. Thank you
Tagged: