Potential update problems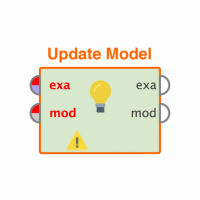 Skirzynski
Member
Posts: 164
Maven
edited November 2018
in Help
Dear RapidMiner users,
Unfortunately, we had a problem with the update mechanism which causes errors on some Windows computers. If you get an error message saying "Windows cannot find RapidMinerUpdate.exe" or you are not able to update RapidMiner anymore, your installation is affected. We have fixed the problem on the marketplace server, so new updates shouldn't have this problem at all, but for an already corrupted update you have to apply the following steps to fix this problem.
Download the missing RapidMinerUpdate.exe
Go to the installation directory of RapidMiner and copy the file into the scripts directory (e.g. C:\Program Files\Rapid-I\RapidMiner5\scripts or C:\Program Files (x86)\Rapid-I\RapidMiner5\scripts)
If you are not prompted to enter your administration password after the restart of RapidMiner, you have to restart Windows before.
The problem affects installation that were updated from RapidMiner 5.2.8 or before to 5.3.0 and then to 5.3.5
We apologize for any inconvenience this may cause.
 Marcin