What model should I use ( training, validation or testing )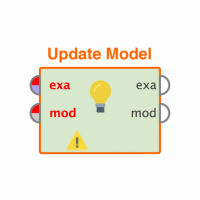 cliftonarms
Member
Posts: 32
Contributor II
edited November 2018
in Help
I am seeking a little "best" advice on the live prediction model application, as I am a little confused what approach is normally adopted.

The data : My data set is 50 attributes and 3400 rows ( 90% for training, 10% for unseen testing) with the very last row reserved as the live prediction example.

The training : I use the 90% training data in 10 fold x-validation to find the best training algorithm and attribute mix for my data. Confirming the best setup selection by applying the model created on the 10%  of unseen data.

My question is - Once I am happy with the above results, what model do I use ( or create ) for the live prediction of the last row? :

1) Do I use the best model created via 90% data 10 fold x-validation
2) Do I create a model  with the 90% training data ( without x fold ) using the best settings found from the x-validation  training.
3) Do I create a model on 100% data ( 90% training and 10% unseen )  with the best settings found from training.

Thank you in advance for your time.