GSP Problem (Unable to Understand what patterns are significant) [SOLVED]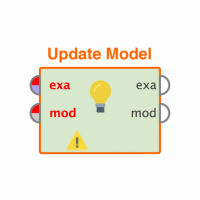 bunnypanda
Member
Posts: 1
Contributor I
edited November 2018
in Help
Hello,
I need a little help in the GSP operator. I managed to run a GSP problem and obtained the following result from IOObject, however, there is nothing In the "GSPSet (GSP)" window.
0.259:      
0.173:    
0.173:    
0.132:    
0.266:    
0.140:    
It seems to me that the GSP has identified a number of statistical significant patterns and the numbers tell you the confidence level of that sequence. However, I cannot understand what patterns they refer to, for example, I expect a result like:
Seq. pattern: (A, B, C): 0.212
Seq. pattern: (<A,B>, <B,C>): 0.195
Please help. I believe that I may overlook some important steps to visualize the result.
Many thanks,
Bunny
Below is the code I used:
<?xml version="1.0" encoding="UTF-8" standalone="no"?>
<process version="5.3.008">
  <context>
    <input>
      <location>//Local Repository/data/Sample Data for Sequential Pattern</location>
    </input>
    <output/>
    <macros/>
  </context>
  <operator activated="true" class="process" compatibility="5.3.008" expanded="true" name="Process">
    <process expanded="true">
      <operator activated="true" class="retrieve" compatibility="5.3.008" expanded="true" height="60" name="Retrieve Sample Data for Sequential Pattern" width="90" x="45" y="30">
        <parameter key="repository_entry" value="//Local Repository/data/Sample Data for Sequential Pattern"/>
      </operator>
      <operator activated="true" class="set_role" compatibility="5.3.008" expanded="true" height="76" name="Set Role" width="90" x="112" y="165">
        <parameter key="attribute_name" value="consumer id"/>
        <parameter key="target_role" value="label"/>
        <list key="set_additional_roles"/>
      </operator>
      <operator activated="true" class="numerical_to_binominal" compatibility="5.3.008" expanded="true" height="76" name="Numerical to Binominal" width="90" x="179" y="30">
        <parameter key="attribute_filter_type" value="subset"/>
        <parameter key="attributes" value="BLANC DE LA MER|BODY CARE|CLEANSERS &amp; TONICS|EYE CARE|FACIAL SYSTEMS|INFUSIONS|MOISTURIZERS|OTHERS|SERUMS|SETS|SKIN COLOUR|THE CONCENTRATE &amp; THE ESSENCE|"/>
      </operator>
      <operator activated="true" class="generalized_sequential_patterns" compatibility="5.3.008" expanded="true" height="76" name="GSP" width="90" x="313" y="165">
        <parameter key="customer_id" value="consumer id"/>
        <parameter key="time_attribute" value="Calendar Date"/>
        <parameter key="min_support" value="0.1"/>
        <parameter key="window_size" value="1.0"/>
        <parameter key="max_gap" value="500.0"/>
        <parameter key="min_gap" value="1.0"/>
        <parameter key="positive_value" value="true"/>
      </operator>
      <connect from_op="Retrieve Sample Data for Sequential Pattern" from_port="output" to_op="Set Role" to_port="example set input"/>
      <connect from_op="Set Role" from_port="example set output" to_op="Numerical to Binominal" to_port="example set input"/>
      <connect from_op="Numerical to Binominal" from_port="example set output" to_op="GSP" to_port="example set"/>
      <connect from_op="Numerical to Binominal" from_port="original" to_port="result 1"/>
      <connect from_op="GSP" from_port="example set" to_port="result 2"/>
      <connect from_op="GSP" from_port="patterns" to_port="result 3"/>
      <portSpacing port="source_input 1" spacing="0"/>
      <portSpacing port="sink_result 1" spacing="0"/>
      <portSpacing port="sink_result 2" spacing="0"/>
      <portSpacing port="sink_result 3" spacing="0"/>
      <portSpacing port="sink_result 4" spacing="0"/>
    </process>
  </operator>
</process>