Double-click Execute Script operator to edit script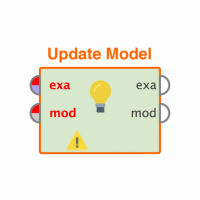 tennenrishin
Member
Posts: 177
Maven
Editing scripts is sometimes a very common user operation. Large scripts sometimes need to be debugged iteratively. Currently it takes up to 3 clicks in the design view to open an Execute Operator's script (select operator, <parameters tab>, 'Edit Text'), not counting selection of the design view. Replacing this with one double-click on the operator itself would save a lot of time in the long run.

(Although it is true that one of those 3 clicks can be eliminated by devoting screen-space to the Parameters tab exclusively, this is not desirable with complex processes where the user tries to maximize Process screen space. And z-order of tabs is not preserved when switching between Perspectives, which is why the parameters tab always needs to be dug out again.)

In my case I refer to the 'Execute Script (R)' operator but all of the above probably applies equally well to any form of Script operator. Perhaps this request could be generalized to all operators that have obvious default parameters that also require an extra button click to edit, such as Retrieve.