What about n models generated in cross validation? Should we not take avg of all models (Linear reg)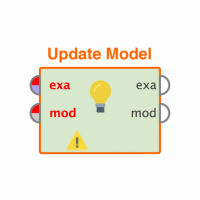 binaytamrakar
Member
Posts: 5
Contributor I
edited November 2018
in Help
I have a question regarding cross validation in Linear regression model.
From my understanding, in cross validation, we split the data into (say) 10 folds and train the data from 9 folds and the remaining folds we use for testing. We repeat this process until we test all of the folds, so that every folds are tested exactly once.
When we are training the model from 9 folds, should we not get a different model (may be slightly different from the model that we have created when using the whole dataset)? I know that we take an average of all the "n" performances and I can see that clearly when I use the operator "write as Text".
But, what about the model? Shouldn't the resulting model also be taken as the average of all the "n" models? I see that the resulting model is same as the model which we created using whole of the dataset before cross-validation. If we are considering the overall model even after cross-validation (and not taking avg of all the models), then what's the point of calculating average performance from n different models (because they are trained from different data and are supposed to be different, right?)
I apologize if my question is not clear or too funny.
Thanks for reading, though!
Tagged: