🎉&nbsp🎉&nbsp&nbsp&nbspRAPIDMINER 9.5 BETA IS OUT!!!&nbsp&nbsp&nbsp🎉&nbsp🎉
GRAB THE HOTTEST NEW BETA OF RAPIDMINER STUDIO, SERVER, AND RADOOP. LET US KNOW WHAT YOU THINK!
🦉&nbsp🎤&nbsp&nbsp&nbspRapidMiner Wisdom 2020 - CALL FOR SPEAKERS&nbsp&nbsp&nbsp🦉&nbsp🎤
We are inviting all community members to submit proposals to speak at Wisdom 2020 in Boston.
Whether it's a cool RapidMiner trick or a use case implementation, we want to see what you have.
Form link is below and deadline for submissions is November 15. See you in Boston!
RapidProM extension issue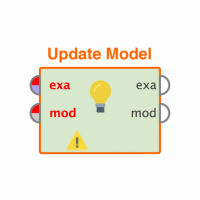 lars_ackermann
Member
Posts: 7
Contributor I
edited November 2018
in Help
Hi community,
I'm new to this forum and I hope I found the right place for discussing my problem. I found the manual for developing new RapidMiner extensions very useful. The initial project setup worked fine for me until I had to configure the dependencies on other RapidMiner extensions. Since I want to develop something that complements the RapidProM I thought it would me a good idea to add RapidProM to the gradle dependencies. Unfortunately I have no idea what information I have to fill in for "extension namespace" and "version". This seems somehow a different configuration style than with third-party-library dependencies. It would be awesome, if anybody already found a solution or had a hint for me.
Thank you very much in advance and kind regards,
Lars
Tagged: