RapidMiner 9.7 is Now Available
Lots of amazing new improvements including true version control! Learn more about what's new here.
"Performance regression - ANN issue"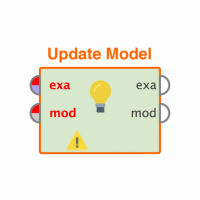 vitor_sousa
Member
Posts: 3
Contributor I
Hi,
I built a simple regression model (5 independent variables) and computed the predicted values to estimate performance indicators (mean squared error, absolute error and R2). Afterwards, I used rapidminer to built a neural net (with cross validation to optimize the parameters). The issue is with the performance results when applying the best neural net to all dataset in order to compare with the regression. I got a average squared error of 10.1379 with the regression and 11.749 +/- 15.630 with the neural net, but the squared correlation of the regression is only 0.732 and the rapidminer output for the neural net is 0.814. This doesn't make sense to me, could anyone help? Am I comparing different things?
Thanks in advance,
Vitor Sousa