🎉 🎉 RAPIDMINER 9.10 IS OUT!!! 🎉🎉
Download the latest version helping analytics teams accelerate time-to-value for streaming and IIOT use cases.
Breakpoint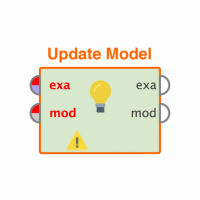 pantangi_shekar
Member
Posts: 9
Contributor I
edited November 2018
in Help
Can I use a breakpoint to run the model from that particular point??
My situation is:
Suppose, I have a huge model with n number of joins, m number of filtering and cleaning operators and at the end I have a Neural net.  If I make a small change in one of the join or cleaning operator somewhere in the middle of the model, I had to run the entire model to see the results which is taking 1- 3 mins. Is there any way that I can create a checkpoint in the model so that, I should be able to run the model from that particular point next time instead of running it from the beginning. Is it posisble in Rapidminer????
Is that the purpose of Breakpoint? But I dont see it that way. I can observe that at breakpoint the flow stops and shows us the result. 
If there is any way to solve this. Please let me know.
Thanks in advance.
Best,
Raj