One-Class SVM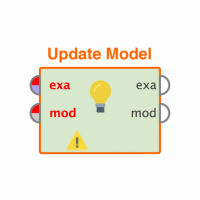 pankestyle
Member
Posts: 4
Contributor I
edited November 2018
in Help
Hi all,
I have a problem while trying to build a model with LibSVM (One-class SVM) operator. 
Label is Polynomial, but i transformed it in Binominal, and later (like from stackoverflow) had Filtered dataset to show only those cases which are "true". After Filter examples, I used Map operator, and then libSVM.
On test side of CrossValidation, after ApplyModel, I used Map operator where the selected attribute is prediction, and values for mapping are: inside -> true, and outside -> false. 
Unfortunately, every time I start the process, I get an error: "java.lang.UnsupportedOperationException".
Thanks in advance for your help!
Best wishes,
Milos Panic
More detail about error:
(
Exception: java.lang.UnsupportedOperationException
Message: java.lang.UnsupportedOperationException: java.lang.UnsupportedOperationException
Stack trace:
sun.reflect.GeneratedConstructorAccessor294.newInstance(Unknown Source)
sun.reflect.DelegatingConstructorAccessorImpl.newInstance(DelegatingConstructorAccessorImpl.java:45)
java.lang.reflect.Constructor.newInstance(Constructor.java:422)
java.util.concurrent.ForkJoinTask.getThrowableException(ForkJoinTask.java:593)
java.util.concurrent.ForkJoinTask.get(ForkJoinTask.java:1005)
com.rapidminer.studio.concurrency.internal.StudioConcurrencyContext.collectResults(StudioConcurrencyContext.java:185)
com.rapidminer.studio.concurrency.internal.StudioConcurrencyContext.call(StudioConcurrencyContext.java:127)
com.rapidminer.extension.concurrency.execution.BackgroundExecutionService.executeOperatorTasks(BackgroundExecutionService.java:385)
com.rapidminer.extension.concurrency.operator.process_control.loops.LoopOperator.performParallelLoop(LoopOperator.java:173)
com.rapidminer.extension.concurrency.operator.process_control.loops.LoopOperator.doWork(LoopOperator.java:85)
com.rapidminer.operator.Operator.execute(Operator.java:1004)
com.rapidminer.operator.execution.SimpleUnitExecutor.execute(SimpleUnitExecutor.java:77)
com.rapidminer.operator.ExecutionUnit$3.run(ExecutionUnit.java:812)
com.rapidminer.operator.ExecutionUnit$3.run(ExecutionUnit.java:807)
java.security.AccessController.doPrivileged(Native Method)
com.rapidminer.operator.ExecutionUnit.execute(ExecutionUnit.java:807)
com.rapidminer.operator.OperatorChain.doWork(OperatorChain.java:428)
com.rapidminer.operator.Operator.execute(Operator.java:1004)
com.rapidminer.Process.run(Process.java:1315)
com.rapidminer.Process.run(Process.java:1179)
com.rapidminer.Process.run(Process.java:1132)
com.rapidminer.Process.run(Process.java:1127)
com.rapidminer.Process.run(Process.java:1117)
com.rapidminer.gui.ProcessThread.run(ProcessThread.java:65)
Cause
Exception: java.lang.UnsupportedOperationException
Message: java.lang.UnsupportedOperationException
Stack trace:
sun.reflect.GeneratedConstructorAccessor294.newInstance(Unknown Source)
sun.reflect.DelegatingConstructorAccessorImpl.newInstance(DelegatingConstructorAccessorImpl.java:45)
java.lang.reflect.Constructor.newInstance(Constructor.java:422)
java.util.concurrent.ForkJoinTask.getThrowableException(ForkJoinTask.java:593)
java.util.concurrent.ForkJoinTask.get(ForkJoinTask.java:1005)
com.rapidminer.studio.concurrency.internal.StudioConcurrencyContext.collectResults(StudioConcurrencyContext.java:185)
com.rapidminer.studio.concurrency.internal.StudioConcurrencyContext.call(StudioConcurrencyContext.java:127)
com.rapidminer.extension.concurrency.execution.BackgroundExecutionService.executeOperatorTasks(BackgroundExecutionService.java:385)
com.rapidminer.extension.concurrency.operator.validation.CrossValidationOperator.performParallelValidation(CrossValidationOperator.java:428)
com.rapidminer.extension.concurrency.operator.validation.CrossValidationOperator.doWork(CrossValidationOperator.java:280)
com.rapidminer.operator.Operator.execute(Operator.java:1004)
com.rapidminer.operator.execution.SimpleUnitExecutor.execute(SimpleUnitExecutor.java:77)
com.rapidminer.operator.ExecutionUnit$3.run(ExecutionUnit.java:812)
com.rapidminer.operator.ExecutionUnit$3.run(ExecutionUnit.java:807)
java.security.AccessController.doPrivileged(Native Method)
com.rapidminer.operator.ExecutionUnit.execute(ExecutionUnit.java:807)
com.rapidminer.extension.concurrency.operator.process_control.loops.LoopOperator.doIteration(LoopOperator.java:240)
com.rapidminer.extension.concurrency.operator.process_control.loops.LoopOperator.access$300(LoopOperator.java:42)
com.rapidminer.extension.concurrency.operator.process_control.loops.LoopOperator$2.call(LoopOperator.java:165)
com.rapidminer.extension.concurrency.operator.process_control.loops.LoopOperator$2.call(LoopOperator.java:156)
com.rapidminer.extension.concurrency.execution.BackgroundExecutionService$ExecutionCallable.call(BackgroundExecutionService.java:349)
java.util.concurrent.ForkJoinTask$AdaptedCallable.exec(ForkJoinTask.java:1424)
java.util.concurrent.ForkJoinTask.doExec(ForkJoinTask.java:289)
java.util.concurrent.ForkJoinPool$WorkQueue.runTask(ForkJoinPool.java:1056)
java.util.concurrent.ForkJoinPool.runWorker(ForkJoinPool.java:1689)
java.util.concurrent.ForkJoinWorkerThread.run(ForkJoinWorkerThread.java:157)
Cause
Exception: java.lang.UnsupportedOperationException
Message: null
Stack trace:
java.util.AbstractList.remove(AbstractList.java:161)
java.util.AbstractList$Itr.remove(AbstractList.java:374)
java.util.AbstractList.removeRange(AbstractList.java:571)
java.util.AbstractList.clear(AbstractList.java:234)
com.rapidminer.operator.learner.functions.kernel.LibSVMModel.performPrediction(LibSVMModel.java:169)
com.rapidminer.operator.learner.PredictionModel.apply(PredictionModel.java:116)
com.rapidminer.operator.ModelApplier.doWork(ModelApplier.java:134)
com.rapidminer.operator.Operator.execute(Operator.java:1004)
com.rapidminer.operator.execution.SimpleUnitExecutor.execute(SimpleUnitExecutor.java:77)
com.rapidminer.operator.ExecutionUnit$3.run(ExecutionUnit.java:812)
com.rapidminer.operator.ExecutionUnit$3.run(ExecutionUnit.java:807)
java.security.AccessController.doPrivileged(Native Method)
com.rapidminer.operator.ExecutionUnit.execute(ExecutionUnit.java:807)
com.rapidminer.extension.concurrency.operator.validation.CrossValidationOperator.test(CrossValidationOperator.java:473)
com.rapidminer.extension.concurrency.operator.validation.CrossValidationOperator.access$300(CrossValidationOperator.java:59)
com.rapidminer.extension.concurrency.operator.validation.CrossValidationOperator$8.call(CrossValidationOperator.java:418)
com.rapidminer.extension.concurrency.operator.validation.CrossValidationOperator$8.call(CrossValidationOperator.java:402)
com.rapidminer.extension.concurrency.execution.BackgroundExecutionService$ExecutionCallable.call(BackgroundExecutionService.java:349)
java.util.concurrent.ForkJoinTask$AdaptedCallable.exec(ForkJoinTask.java:1424)
java.util.concurrent.ForkJoinTask.doExec(ForkJoinTask.java:289)
java.util.concurrent.ForkJoinPool$WorkQueue.runTask(ForkJoinPool.java:1056)
java.util.concurrent.ForkJoinPool.runWorker(ForkJoinPool.java:1689)
java.util.concurrent.ForkJoinWorkerThread.run(ForkJoinWorkerThread.java:157)
Tagged: