Extension Weka - Predictive - W-BayesNet (TAN): problem in export WekaResult model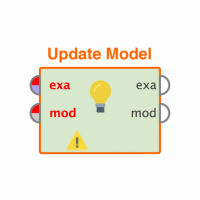 ferreiradossant
Member
Posts: 3
Contributor I
edited November 2018
in Help
Hi.
So, I have a data set that I used to construct my TAN model.
Now that I have the model I want it to be applied in the scoring of another data set with missing models. 
The problem is that I need to store the model (Weka result) and I can´t.
I used the "write PMML" operator and it gives me an error message: "The class Wekaclassifier cannot be exported to PMML. For some classes are no PMML writes available due to restrictions of the standard or other technical reasons".
I also try the "Write model" operator, storing it as XML file, but it also does not work.
The problem is that I want to open the model in the SamIam software. It only read hugin net.
I search everywhere and I cannot find a solution to my problem.
Could you please help? I attach a picture of the process.
Tagged: