"Predictive analysis - problems with accuracy."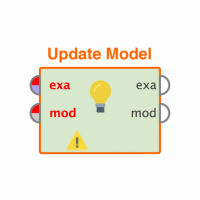 maurits_freriks
Member
Posts: 28
Contributor I
Hi contributors,
First of all, this is my third message and I really appreciate the effort of the experts. Keep up the good work! 
Now after a few lessons of RM I got finally (in my opinion) something like a good design/model. Let me quick describe the model: Two sets, training and testing. I have used a windowing operator to devide the data in to blocks of 5days before today and which have to predict the value of tomorrow. 
With a sliding window validation operator, NN network and a performance operator I would like to get the best accuracy I can get. Below in my XML you could see the model. 
Now my question is: How could I increase my accuracy because this is really low. I would like to get a higher accuracy of the prediction of tomorrow. It seems that you have to play with the parameters but I'm not understanding all of them. In my opinion the next parameters could have some influence on the accuracy. 
- Windowing Operator - Windowsize, stepsize, horizon.
I have set the windowsize on 5 because I think information about 5 days is enough but I could easily change this. Stepsize is 1 because you would like to predict every day and horizon of 2 because you predict the value of tomorrow and not today. 
- Validation operator - Training window width, training window step size, test window with and hoirzon.
- Forecasting Performance - Horizon.
Either for this parameter i don't understand this meaning. 
I could also play with the training block in the validation operator. For example NN-network, linear regression or SVM. Do someone sugest something else after seeing my problem and dataset?
Hopefully I'm clear enough. If the problem/questions is/are not clear please leave a comment!
Thanks for helping! 
Maurits 
I really don't understand these parameters!?
Below my XML code:
<?xml version="1.0" encoding="UTF-8"?><process version="7.6.001">
  <context>
    <input/>
    <output/>
    <macros/>
  </context>
  <operator activated="true" class="process" compatibility="7.6.001" expanded="true" name="Process">
    <process expanded="true">
      <operator activated="true" class="retrieve" compatibility="7.6.001" expanded="true" height="68" name="Retrieve test data only flow oktober days train set" width="90" x="45" y="34">
        <parameter key="repository_entry" value="//Local Repository/data/test data only flow oktober days train set"/>
      </operator>
      <operator activated="true" class="series:windowing" compatibility="7.4.000" expanded="true" height="82" name="Windowing" width="90" x="179" y="34">
        <parameter key="window_size" value="5"/>
        <parameter key="create_label" value="true"/>
        <parameter key="label_attribute" value="A"/>
        <parameter key="horizon" value="2"/>
      </operator>
      <operator activated="true" class="series:sliding_window_validation" compatibility="7.4.000" expanded="true" height="124" name="Validation" width="90" x="313" y="34">
        <parameter key="training_window_width" value="20"/>
        <parameter key="training_window_step_size" value="5"/>
        <parameter key="test_window_width" value="10"/>
        <process expanded="true">
          <operator activated="true" class="neural_net" compatibility="7.6.001" expanded="true" height="82" name="Neural Net" width="90" x="112" y="34">
            <list key="hidden_layers"/>
          </operator>
          <connect from_port="training" to_op="Neural Net" to_port="training set"/>
          <connect from_op="Neural Net" from_port="model" to_port="model"/>
          <portSpacing port="source_training" spacing="0"/>
          <portSpacing port="sink_model" spacing="0"/>
          <portSpacing port="sink_through 1" spacing="0"/>
        </process>
        <process expanded="true">
          <operator activated="true" class="apply_model" compatibility="7.6.001" expanded="true" height="82" name="Apply Model" width="90" x="45" y="34">
            <list key="application_parameters"/>
          </operator>
          <operator activated="true" class="series:forecasting_performance" compatibility="7.4.000" expanded="true" height="82" name="Performance" width="90" x="179" y="34">
            <parameter key="horizon" value="2"/>
          </operator>
          <connect from_port="model" to_op="Apply Model" to_port="model"/>
          <connect from_port="test set" to_op="Apply Model" to_port="unlabelled data"/>
          <connect from_op="Apply Model" from_port="labelled data" to_op="Performance" to_port="labelled data"/>
          <connect from_op="Performance" from_port="performance" to_port="averagable 1"/>
          <portSpacing port="source_model" spacing="0"/>
          <portSpacing port="source_test set" spacing="0"/>
          <portSpacing port="source_through 1" spacing="0"/>
          <portSpacing port="sink_averagable 1" spacing="0"/>
          <portSpacing port="sink_averagable 2" spacing="0"/>
        </process>
      </operator>
      <operator activated="true" class="retrieve" compatibility="7.6.001" expanded="true" height="68" name="Retrieve test data only flow oktober days test set" width="90" x="45" y="238">
        <parameter key="repository_entry" value="//Local Repository/data/test data only flow oktober days test set"/>
      </operator>
      <operator activated="true" class="series:windowing" compatibility="7.4.000" expanded="true" height="82" name="Windowing (2)" width="90" x="179" y="238">
        <parameter key="window_size" value="5"/>
        <parameter key="create_label" value="true"/>
        <parameter key="label_attribute" value="A"/>
        <parameter key="horizon" value="2"/>
      </operator>
      <operator activated="true" class="apply_model" compatibility="7.6.001" expanded="true" height="82" name="Apply Model (2)" width="90" x="313" y="238">
        <list key="application_parameters"/>
      </operator>
      <connect from_op="Retrieve test data only flow oktober days train set" from_port="output" to_op="Windowing" to_port="example set input"/>
      <connect from_op="Windowing" from_port="example set output" to_op="Validation" to_port="training"/>
      <connect from_op="Validation" from_port="model" to_op="Apply Model (2)" to_port="model"/>
      <connect from_op="Validation" from_port="training" to_port="result 1"/>
      <connect from_op="Validation" from_port="averagable 1" to_port="result 2"/>
      <connect from_op="Retrieve test data only flow oktober days test set" from_port="output" to_op="Windowing (2)" to_port="example set input"/>
      <connect from_op="Windowing (2)" from_port="example set output" to_op="Apply Model (2)" to_port="unlabelled data"/>
      <connect from_op="Apply Model (2)" from_port="labelled data" to_port="result 3"/>
      <connect from_op="Apply Model (2)" from_port="model" to_port="result 4"/>
      <portSpacing port="source_input 1" spacing="0"/>
      <portSpacing port="sink_result 1" spacing="0"/>
      <portSpacing port="sink_result 2" spacing="0"/>
      <portSpacing port="sink_result 3" spacing="0"/>
      <portSpacing port="sink_result 4" spacing="0"/>
      <portSpacing port="sink_result 5" spacing="0"/>
    </process>
  </operator>
</process>
Tagged: