How to adjust the display scaling on RapidMiner Studio for Windows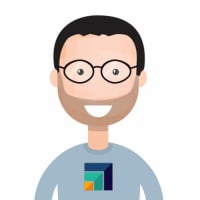 sgenzer
Administrator, Moderator, Employee, RapidMiner Certified Analyst, Community Manager, Member, University Professor, PM Moderator
Posts: 2,959
Community Manager
 This is a very brief KB for users to understand how to adjust the display scaling in RapidMiner Studio 7.6 and newer. Since version 7.6, the display in RapidMiner Studio is scaled by a setting in Windows; before this was ignored.
Hence if you have moved from an older version of RapidMiner Studio to version 7.6 or newer (we're on version 8.0 as of this writing), you may encounter this problem:
small display graphics in RapidMiner 7.2 for Windows                                   
larger display graphics in RapidMiner 8.0 for Windows
If you wish to adjust the scaling, you can either reduce the Windows scaling, or overwrite the scaling behavior as shown here:
Hope that helps users get the display exactly the way they like it!
Scott