RapidMiner 9.7 is Now Available
Lots of amazing new improvements including true version control! Learn more about what's new here.
Runtime exception: mismatched criterion class when running gridsearch on list of perf parameters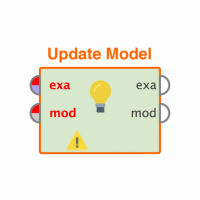 oliver23
Member
Posts: 4
Contributor I
Hi 
I'm getting the following runtime error when i try to run a "Optimize Parameters (Grid)"  and selecting Performance.MainCriterion as variable to do the greid search. The grid search produces this error as soon as it has completed the first run with one parameter setting.
Can anyone shed light on this ?
Example: if the first run specifies "root_mean_squared_error", and the second run specifies "absolute_error", then I get the following exception:
Exception: java.lang.RuntimeException
Message: java.lang.RuntimeException: Mismatched criterion class:class com.rapidminer.operator.performance.AbsoluteError, class com.rapidminer.operator.performance.RootMeanSquaredError
Stack trace:
sun.reflect.NativeConstructorAccessorImpl.newInstance0(Native Method)
sun.reflect.NativeConstructorAccessorImpl.newInstance(NativeConstructorAccessorImpl.java:62)
sun.reflect.DelegatingConstructorAccessorImpl.newInstance(DelegatingConstructorAccessorImpl.java:45)
java.lang.reflect.Constructor.newInstance(Constructor.java:423)
java.util.concurrent.ForkJoinTask.getThrowableException(ForkJoinTask.java:593)
java.util.concurrent.ForkJoinTask.get(ForkJoinTask.java:1005)
com.rapidminer.studio.concurrency.internal.StudioConcurrencyContext.collectResults(StudioConcurrencyContext.java:212)
com.rapidminer.studio.concurrency.internal.StudioConcurrencyContext.call(StudioConcurrencyContext.java:156)
com.rapidminer.extension.concurrency.execution.BackgroundExecutionService.executeOperatorTasks(BackgroundExecutionService.java:393)
com.rapidminer.extension.concurrency.operator.process_control.loops.AbstractLoopOperator.performParallelLoop(AbstractLoopOperator.java:248)
com.rapidminer.extension.concurrency.operator.process_control.loops.AbstractLoopOperator.doWork(AbstractLoopOperator.java:418)
com.rapidminer.operator.Operator.execute(Operator.java:1004)
com.rapidminer.operator.execution.SimpleUnitExecutor.execute(SimpleUnitExecutor.java:77)
com.rapidminer.operator.ExecutionUnit$3.run(ExecutionUnit.java:812)
com.rapidminer.operator.ExecutionUnit$3.run(ExecutionUnit.java:807)
java.security.AccessController.doPrivileged(Native Method)
com.rapidminer.operator.ExecutionUnit.execute(ExecutionUnit.java:807)
com.rapidminer.operator.OperatorChain.doWork(OperatorChain.java:428)
com.rapidminer.operator.Operator.execute(Operator.java:1004)
com.rapidminer.Process.execute(Process.java:1310)
com.rapidminer.Process.run(Process.java:1285)
com.rapidminer.Process.run(Process.java:1176)
com.rapidminer.Process.run(Process.java:1129)
com.rapidminer.Process.run(Process.java:1124)
com.rapidminer.Process.run(Process.java:1114)
com.rapidminer.gui.ProcessThread.run(ProcessThread.java:65)
Cause
Exception: java.lang.RuntimeException
Message: Mismatched criterion class:class com.rapidminer.operator.performance.AbsoluteError, class com.rapidminer.operator.performance.RootMeanSquaredError
Stack trace:
com.rapidminer.operator.performance.PerformanceCriterion.compareTo(PerformanceCriterion.java:104)
com.rapidminer.operator.performance.PerformanceVector$DefaultComparator.compare(PerformanceVector.java:56)
com.rapidminer.operator.performance.PerformanceVector.compareTo(PerformanceVector.java:140)
com.rapidminer.extension.concurrency.operator.optimization.parameters.OptimizeGridOperator.processSingleRun(OptimizeGridOperator.java:163)
com.rapidminer.extension.concurrency.operator.optimization.parameters.OptimizeGridOperator.processSingleRun(OptimizeGridOperator.java:41)
com.rapidminer.extension.concurrency.operator.process_control.loops.AbstractLoopOperator.lambda$performParallelLoop$1(AbstractLoopOperator.java:241)
com.rapidminer.extension.concurrency.execution.BackgroundExecutionService$ExecutionCallable.call(BackgroundExecutionService.java:357)
java.util.concurrent.ForkJoinTask$AdaptedCallable.exec(ForkJoinTask.java:1424)
java.util.concurrent.ForkJoinTask.doExec(ForkJoinTask.java:289)
java.util.concurrent.ForkJoinPool$WorkQueue.runTask(ForkJoinPool.java:1056)
java.util.concurrent.ForkJoinPool.runWorker(ForkJoinPool.java:1692)
java.util.concurrent.ForkJoinWorkerThread.run(ForkJoinWorkerThread.java:157)
The setup is like this :
<?xml version="1.0" encoding="UTF-8"?><process version="8.0.001">
<operator activated="true" class="retrieve" compatibility="8.0.001" expanded="true" height="68" name="Retrieve" width="90" x="112" y="34">
<parameter key="repository_entry" value="../data/OliTestSetIntraRTG"/>
</operator>
</process>
<?xml version="1.0" encoding="UTF-8"?><process version="8.0.001">
<operator activated="true" class="concurrency:optimize_parameters_grid" compatibility="8.0.001" expanded="true" height="124" name="Optimize Parameters (Grid)" width="90" x="581" y="493">
<list key="parameters">
<parameter key="Performance (2).main_criterion" value="root_mean_squared_error,absolute_error"/>
</list>
<parameter key="error_handling" value="fail on error"/>
<parameter key="log_performance" value="true"/>
<parameter key="log_all_criteria" value="true"/>
<parameter key="synchronize" value="false"/>
<parameter key="enable_parallel_execution" value="true"/>
<process expanded="true">
<operator activated="true" class="split_data" compatibility="8.0.001" expanded="true" height="103" name="Split Data" width="90" x="179" y="340">
<enumeration key="partitions">
<parameter key="ratio" value="0.5"/>
<parameter key="ratio" value="0.5"/>
</enumeration>
<parameter key="sampling_type" value="automatic"/>
<parameter key="use_local_random_seed" value="false"/>
<parameter key="local_random_seed" value="1992"/>
</operator>
<operator activated="true" class="h2o:gradient_boosted_trees" compatibility="7.6.001" expanded="true" height="103" name="Gradient Boosted Trees (2)" width="90" x="380" y="136">
<parameter key="number_of_trees" value="9"/>
<parameter key="reproducible" value="false"/>
<parameter key="maximum_number_of_threads" value="4"/>
<parameter key="use_local_random_seed" value="false"/>
<parameter key="local_random_seed" value="1992"/>
<parameter key="maximal_depth" value="4"/>
<parameter key="min_rows" value="20.0"/>
<parameter key="min_split_improvement" value="0.0"/>
<parameter key="number_of_bins" value="20"/>
<parameter key="learning_rate" value="0.1"/>
<parameter key="sample_rate" value="1.0"/>
<parameter key="distribution" value="AUTO"/>
<parameter key="early_stopping" value="false"/>
<parameter key="stopping_rounds" value="1"/>
<parameter key="stopping_metric" value="AUTO"/>
<parameter key="stopping_tolerance" value="0.001"/>
<parameter key="max_runtime_seconds" value="0"/>
<list key="expert_parameters"/>
</operator>
<operator activated="true" class="apply_model" compatibility="8.0.001" expanded="true" height="82" name="Apply Model" width="90" x="581" y="238">
<list key="application_parameters"/>
<parameter key="create_view" value="false"/>
</operator>
<operator activated="true" class="performance_regression" compatibility="8.0.001" expanded="true" height="82" name="Performance (2)" width="90" x="715" y="34">
<parameter key="main_criterion" value="absolute_error"/>
<parameter key="root_mean_squared_error" value="true"/>
<parameter key="absolute_error" value="true"/>
<parameter key="relative_error" value="true"/>
<parameter key="relative_error_lenient" value="true"/>
<parameter key="relative_error_strict" value="false"/>
<parameter key="normalized_absolute_error" value="true"/>
<parameter key="root_relative_squared_error" value="true"/>
<parameter key="squared_error" value="true"/>
<parameter key="correlation" value="true"/>
<parameter key="squared_correlation" value="true"/>
<parameter key="prediction_average" value="false"/>
<parameter key="spearman_rho" value="false"/>
<parameter key="kendall_tau" value="false"/>
<parameter key="skip_undefined_labels" value="true"/>
<parameter key="use_example_weights" value="false"/>
</operator>
<connect from_port="input 1" to_op="Split Data" to_port="example set"/>
<connect from_op="Split Data" from_port="partition 1" to_op="Gradient Boosted Trees (2)" to_port="training set"/>
<connect from_op="Split Data" from_port="partition 2" to_op="Apply Model" to_port="unlabelled data"/>
<connect from_op="Gradient Boosted Trees (2)" from_port="model" to_op="Apply Model" to_port="model"/>
<connect from_op="Apply Model" from_port="labelled data" to_op="Performance (2)" to_port="labelled data"/>
<connect from_op="Apply Model" from_port="model" to_port="model"/>
<connect from_op="Performance (2)" from_port="performance" to_port="performance"/>
<portSpacing port="source_input 1" spacing="0"/>
<portSpacing port="source_input 2" spacing="0"/>
<portSpacing port="sink_performance" spacing="0"/>
<portSpacing port="sink_model" spacing="0"/>
<portSpacing port="sink_output 1" spacing="0"/>
</process>
</operator>
</process>
<?xml version="1.0" encoding="UTF-8"?><process version="8.0.001">
<operator activated="true" class="store" compatibility="8.0.001" expanded="true" height="68" name="Store" width="90" x="849" y="187">
<parameter key="repository_entry" value="../data/RForest1"/>
</operator>
</process>
Tagged: