How to interpret this surprising AUC result ?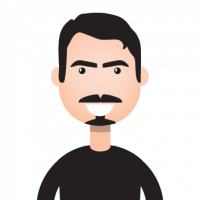 lionelderkrikor
Moderator, RapidMiner Certified Analyst, Member
Posts: 1,195
Unicorn
Dear all,
During my experimentations, I builded a "classic" process with a model (Random Forest) inside a X-validation operator, inside an Optimize Parameters operator.
After running, I found surprising results : 
1. AUC << AUC(pessimistic) < AUC (optimistic)
l
2. The curve ROC associated to AUC is absent !
I used the Generate ROC operator to represent the ROC curve and the shape of this curve is compatible
with the calculated value of AUC (0.499) : 
Questions :
 - How to interpret this result ?
 - Why the ROC curve associated to AUC from the Performance operator is absent ?
 - What are the definitions of AUC (pessimistic) / AUC (optimistic) ?
Regards,
Lionel
NB : The process : 
<?xml version="1.0" encoding="UTF-8"?><process version="8.2.000">
  <context>
    <input/>
    <output/>
    <macros/>
  </context>
  <operator activated="true" class="process" compatibility="8.2.000" expanded="true" name="Process">
    <process expanded="true">
      <operator activated="true" class="generate_direct_mailing_data" compatibility="8.2.000" expanded="true" height="68" name="Generate Direct Mailing Data" width="90" x="45" y="187">
        <parameter key="number_examples" value="10000"/>
      </operator>
      <operator activated="true" class="split_data" compatibility="8.2.000" expanded="true" height="103" name="Split Data" width="90" x="246" y="136">
        <enumeration key="partitions">
          <parameter key="ratio" value="0.8"/>
          <parameter key="ratio" value="0.2"/>
        </enumeration>
      </operator>
      <operator activated="true" class="concurrency:optimize_parameters_grid" compatibility="8.2.000" expanded="true" height="145" name="Optimize Parameters (Grid)" width="90" x="380" y="85">
        <list key="parameters">
          <parameter key="Random Forest.number_of_trees" value="[2;5;10;linear]"/>
          <parameter key="Random Forest.maximal_depth" value="[2;5;10;linear]"/>
        </list>
        <process expanded="true">
          <operator activated="true" class="concurrency:cross_validation" compatibility="8.2.000" expanded="true" height="145" name="Cross Validation (2)" width="90" x="112" y="85">
            <process expanded="true">
              <operator activated="true" class="concurrency:parallel_random_forest" compatibility="8.2.000" expanded="true" height="103" name="Random Forest" width="90" x="179" y="34"/>
              <connect from_port="training set" to_op="Random Forest" to_port="training set"/>
              <connect from_op="Random Forest" from_port="model" to_port="model"/>
              <portSpacing port="source_training set" spacing="0"/>
              <portSpacing port="sink_model" spacing="0"/>
              <portSpacing port="sink_through 1" spacing="0"/>
            </process>
            <process expanded="true">
              <operator activated="true" class="apply_model" compatibility="8.2.000" expanded="true" height="82" name="Apply Model (2)" width="90" x="112" y="85">
                <list key="application_parameters"/>
              </operator>
              <operator activated="true" class="performance" compatibility="8.2.000" expanded="true" height="82" name="Performance Training" width="90" x="224" y="85"/>
              <connect from_port="model" to_op="Apply Model (2)" to_port="model"/>
              <connect from_port="test set" to_op="Apply Model (2)" to_port="unlabelled data"/>
              <connect from_op="Apply Model (2)" from_port="labelled data" to_op="Performance Training" to_port="labelled data"/>
              <connect from_op="Performance Training" from_port="performance" to_port="performance 1"/>
              <connect from_op="Performance Training" from_port="example set" to_port="test set results"/>
              <portSpacing port="source_model" spacing="0"/>
              <portSpacing port="source_test set" spacing="0"/>
              <portSpacing port="source_through 1" spacing="0"/>
              <portSpacing port="sink_test set results" spacing="0"/>
              <portSpacing port="sink_performance 1" spacing="0"/>
              <portSpacing port="sink_performance 2" spacing="0"/>
            </process>
          </operator>
          <connect from_port="input 1" to_op="Cross Validation (2)" to_port="example set"/>
          <connect from_op="Cross Validation (2)" from_port="model" to_port="model"/>
          <connect from_op="Cross Validation (2)" from_port="test result set" to_port="output 1"/>
          <connect from_op="Cross Validation (2)" from_port="performance 1" to_port="performance"/>
          <portSpacing port="source_input 1" spacing="0"/>
          <portSpacing port="source_input 2" spacing="0"/>
          <portSpacing port="sink_performance" spacing="0"/>
          <portSpacing port="sink_model" spacing="0"/>
          <portSpacing port="sink_output 1" spacing="0"/>
          <portSpacing port="sink_output 2" spacing="0"/>
        </process>
      </operator>
      <operator activated="true" class="anomalydetection:Generate ROC" compatibility="2.4.001" expanded="true" height="145" name="Generate ROC" width="90" x="581" y="34">
        <parameter key="label value for outliers" value="response"/>
      </operator>
      <operator activated="true" class="concurrency:loop" compatibility="8.2.000" expanded="true" height="103" name="Loop" width="90" x="581" y="187">
        <parameter key="number_of_iterations" value="20"/>
        <process expanded="true">
          <operator activated="true" class="sample" compatibility="8.2.000" expanded="true" height="82" name="Sample" width="90" x="45" y="136">
            <parameter key="sample" value="relative"/>
            <list key="sample_size_per_class"/>
            <list key="sample_ratio_per_class"/>
            <list key="sample_probability_per_class"/>
            <parameter key="use_local_random_seed" value="true"/>
            <parameter key="local_random_seed" value="%{iteration}"/>
            <description align="center" color="transparent" colored="false" width="126">Random Subsets of test data. Random Seed is based on iteration.</description>
          </operator>
          <operator activated="true" class="apply_model" compatibility="8.2.000" expanded="true" height="82" name="Apply Model (4)" width="90" x="179" y="34">
            <list key="application_parameters"/>
          </operator>
          <operator activated="true" class="performance" compatibility="8.2.000" expanded="true" height="82" name="Performance Testing" width="90" x="380" y="34"/>
          <connect from_port="input 1" to_op="Apply Model (4)" to_port="model"/>
          <connect from_port="input 2" to_op="Sample" to_port="example set input"/>
          <connect from_op="Sample" from_port="example set output" to_op="Apply Model (4)" to_port="unlabelled data"/>
          <connect from_op="Apply Model (4)" from_port="labelled data" to_op="Performance Testing" to_port="labelled data"/>
          <connect from_op="Performance Testing" from_port="performance" to_port="output 1"/>
          <portSpacing port="source_input 1" spacing="0"/>
          <portSpacing port="source_input 2" spacing="0"/>
          <portSpacing port="source_input 3" spacing="0"/>
          <portSpacing port="sink_output 1" spacing="0"/>
          <portSpacing port="sink_output 2" spacing="0"/>
        </process>
      </operator>
      <operator activated="true" breakpoints="after" class="average" compatibility="8.2.000" expanded="true" height="82" name="Average" width="90" x="715" y="187"/>
      <operator activated="true" class="t_test" compatibility="8.2.000" expanded="true" height="124" name="T-Test" width="90" x="849" y="136"/>
      <connect from_op="Generate Direct Mailing Data" from_port="output" to_op="Split Data" to_port="example set"/>
      <connect from_op="Split Data" from_port="partition 1" to_op="Optimize Parameters (Grid)" to_port="input 1"/>
      <connect from_op="Split Data" from_port="partition 2" to_op="Loop" to_port="input 2"/>
      <connect from_op="Optimize Parameters (Grid)" from_port="performance" to_op="Generate ROC" to_port="performance"/>
      <connect from_op="Optimize Parameters (Grid)" from_port="model" to_op="Loop" to_port="input 1"/>
      <connect from_op="Optimize Parameters (Grid)" from_port="parameter set" to_port="result 4"/>
      <connect from_op="Optimize Parameters (Grid)" from_port="output 1" to_op="Generate ROC" to_port="example set"/>
      <connect from_op="Generate ROC" from_port="example set" to_port="result 5"/>
      <connect from_op="Generate ROC" from_port="roc set" to_port="result 6"/>
      <connect from_op="Generate ROC" from_port="auc" to_port="result 7"/>
      <connect from_op="Generate ROC" from_port="performance" to_op="T-Test" to_port="performance 1"/>
      <connect from_op="Loop" from_port="output 1" to_op="Average" to_port="averagable 1"/>
      <connect from_op="Average" from_port="average" to_op="T-Test" to_port="performance 2"/>
      <connect from_op="T-Test" from_port="significance" to_port="result 1"/>
      <connect from_op="T-Test" from_port="performance 1" to_port="result 2"/>
      <connect from_op="T-Test" from_port="performance 2" to_port="result 3"/>
      <portSpacing port="source_input 1" spacing="0"/>
      <portSpacing port="sink_result 1" spacing="0"/>
      <portSpacing port="sink_result 2" spacing="0"/>
      <portSpacing port="sink_result 3" spacing="0"/>
      <portSpacing port="sink_result 4" spacing="0"/>
      <portSpacing port="sink_result 5" spacing="0"/>
      <portSpacing port="sink_result 6" spacing="0"/>
      <portSpacing port="sink_result 7" spacing="0"/>
      <portSpacing port="sink_result 8" spacing="0"/>
      <portSpacing port="sink_result 9" spacing="0"/>
    </process>
  </operator>
</process>

Tagged: