RapidMiner 9.8 Beta is now available
Be one of the first to get your hands on the new features. More details and downloads here:
Regression SVM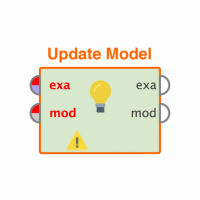 saidi_riadh
Member
Posts: 6
Contributor II
edited December 2019
in Help
I'd like to develop the model for this case quickly:
my data in an excel file
I want to check the SVM method of this model with quick miner,
my question is how to import this data into excel and build its SVM model??
| | | | | |
| --- | --- | --- | --- | --- |
| Input1 | Input2 | Input3 | Response | ResponseSVM |
| 0,4 | 170 | 0,1 | 4,2 | 4,22 |
| 0,4 | 170 | 0,13 | 5,9 | 4,45 |
| 0,4 | 170 | 0,16 | 4,55 | 4,57 |
| 0,4 | 190 | 0,1 | 3,38 | 3,95 |
| 0,4 | 190 | 0,13 | 5,44 | 4,3 |
| 0,4 | 190 | 0,16 | 5,87 | 4,6 |
| 0,4 | 210 | 0,1 | 3,8 | 4,05 |
| 0,4 | 210 | 0,13 | 3,9 | 4,12 |
| 0,4 | 210 | 0,16 | 4,2 | 4,17 |
| 0,8 | 170 | 0,1 | 3,2 | 3,95 |
| 0,8 | 170 | 0,13 | 3,87 | 3,88 |
| 0,8 | 170 | 0,16 | 3,42 | 3,43 |
| 0,8 | 190 | 0,1 | 4,09 | 3,48 |
| 0,8 | 190 | 0,13 | 4,27 | 3,42 |
| 0,8 | 190 | 0,16 | 3,09 | 3,33 |
| 0,8 | 210 | 0,1 | 3,2 | 2,96 |
| 0,8 | 210 | 0,13 | 3,28 | 3,26 |
| 0,8 | 210 | 0,16 | 3,21 | 3,34 |
Tagged: