🎉&nbsp🎉&nbsp&nbsp&nbspRAPIDMINER 9.5 BETA IS OUT!!!&nbsp&nbsp&nbsp🎉&nbsp🎉
GRAB THE HOTTEST NEW BETA OF RAPIDMINER STUDIO, SERVER, AND RADOOP. LET US KNOW WHAT YOU THINK!
🦉&nbsp🎤&nbsp&nbsp&nbspRapidMiner Wisdom 2020 - CALL FOR SPEAKERS&nbsp&nbsp&nbsp🦉&nbsp🎤
We are inviting all community members to submit proposals to speak at Wisdom 2020 in Boston.
Whether it's a cool RapidMiner trick or a use case implementation, we want to see what you have.
Form link is below and deadline for submissions is November 15. See you in Boston!
"Problem displaying decision trees node labels"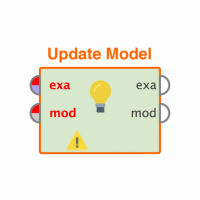 Armand_Hirt
Member
Posts: 2
Contributor I
Hi. I am currently evaluating Rapidminer and going through the tutorial, so, my apologies if I am missing something obvious.
I have trouble getting decision tree graphs displayed right: the tree is see in Rapidminer Studio "results" pane is quite different from the screenshots online. Where labels are supposed to be, i see only a very tall grey rectangle (see attached PNG picture).
Any suggestions to fix this?
<?xml version="1.0" encoding="UTF-8"?><process version="9.0.003">
  <context>
    <input/>
    <output/>
    <macros/>
  </context>
  <operator activated="true" class="process" compatibility="9.0.003" expanded="true" name="Process" origin="GENERATED_TUTORIAL">
    <process expanded="true">
      <operator activated="true" class="retrieve" compatibility="9.0.003" expanded="true" height="68" name="Retrieve Titanic" width="90" x="45" y="34">
        <parameter key="repository_entry" value="//Samples/data/Titanic"/>
      </operator>
      <operator activated="true" class="set_role" compatibility="9.0.003" expanded="true" height="82" name="Set Role" width="90" x="179" y="34">
        <parameter key="attribute_name" value="Survived"/>
        <parameter key="target_role" value="label"/>
        <list key="set_additional_roles"/>
      </operator>
      <operator activated="true" class="select_attributes" compatibility="9.0.003" expanded="true" height="82" name="Select Attributes" width="90" x="313" y="34">
        <parameter key="attribute_filter_type" value="subset"/>
        <parameter key="attribute" value="Life Boat"/>
        <parameter key="attributes" value="Survived|Sex|Passenger Fare|Passenger Class|No of Siblings or Spouses on Board|No of Parents or Children on Board|Age"/>
      </operator>
      <operator activated="true" class="concurrency:parallel_decision_tree" compatibility="9.0.003" expanded="true" height="103" name="Decision Tree" width="90" x="447" y="34">
        <parameter key="maximal_depth" value="5"/>
      </operator>
      <connect from_op="Retrieve Titanic" from_port="output" to_op="Set Role" to_port="example set input"/>
      <connect from_op="Set Role" from_port="example set output" to_op="Select Attributes" to_port="example set input"/>
      <connect from_op="Select Attributes" from_port="example set output" to_op="Decision Tree" to_port="training set"/>
      <connect from_op="Decision Tree" from_port="model" to_port="result 1"/>
      <portSpacing port="source_input 1" spacing="0"/>
      <portSpacing port="sink_result 1" spacing="0"/>
      <portSpacing port="sink_result 2" spacing="0"/>
      <background height="232" location="//Samples/Tutorials/Basics/08/tutorial8" width="1502" x="26" y="47"/>
    </process>
  </operator>
</process>
Tagged: