"How to get Meta Data with the Data to Documents and Process Documents operators"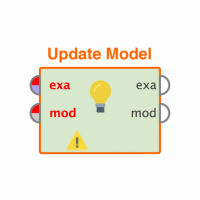 dramhampton
Member
Posts: 9
Contributor II
I'm performing text analytics and am struggling with Meta Data.
In the toy process below, there should be meta data available to the Data to Documents operator, but if you want to specify weights and click on Edit List, the source attribute doesn't populate, so you have to type it manually.  Seems an unnecessary chore if there are several attributes to be listed, is there a 'proper' way to do this?
Also, the Process Documents operator loses all the meta data (quite understandably because it is creating a bunch of new attributes from the text it is fed) - what is best practice for restoring the meta data so that subsequent operators can be set up easily?
Many thanks!
David
<?xml version="1.0" encoding="UTF-8"?><process version="9.2.000">
  <context>
    <input/>
    <output/>
    <macros/>
  </context>
  <operator activated="true" class="process" compatibility="9.2.000" expanded="true" name="Root" origin="GENERATED_SAMPLE">
    <parameter key="logverbosity" value="warning"/>
    <parameter key="random_seed" value="2001"/>
    <parameter key="send_mail" value="never"/>
    <parameter key="notification_email" value=""/>
    <parameter key="process_duration_for_mail" value="30"/>
    <parameter key="encoding" value="SYSTEM"/>
    <process expanded="true">
      <operator activated="true" class="retrieve" compatibility="9.2.000" expanded="true" height="68" name="Retrieve Golf" width="90" x="112" y="34">
        <parameter key="repository_entry" value="../../data/Golf"/>
      </operator>
      <operator activated="true" class="text:data_to_documents" compatibility="8.1.000" expanded="true" height="68" name="Data to Documents" width="90" x="313" y="34">
        <parameter key="select_attributes_and_weights" value="true"/>
        <list key="specify_weights"/>
      </operator>
      <connect from_op="Retrieve Golf" from_port="output" to_op="Data to Documents" to_port="example set"/>
      <connect from_op="Data to Documents" from_port="documents" to_port="result 1"/>
      <portSpacing port="source_input 1" spacing="0"/>
      <portSpacing port="sink_result 1" spacing="0"/>
      <portSpacing port="sink_result 2" spacing="0"/>
    </process>
  </operator>
</process>
Tagged: