🎉 🎉 RAPIDMINER 9.10 IS OUT!!! 🎉🎉
Download the latest version helping analytics teams accelerate time-to-value for streaming and IIOT use cases.
Guardar valor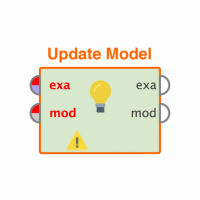 NestorAndrade
Member
Posts: 2
Newbie
Hola, estoy haciendo un modelo de pronostico de inventario pero necesito guardar el valor real del articulo en base al tiempo (numero de semana), pero no se como guardar el dato 'histórico' del registro anterior
Les entrego un ejemplo de lo que realmente quiero, el último campo  es lo que deseo obtener, actualmente hace una resta entre valores semanales de distintas características pero olvida el valor de la semana anterior.
Por favor su ayuda, es urgente!!!
PD: los numeros de semana no son secuenciales.
|------------------------|--------------------|-----------------------|----------- -----------|-------------------|-------------------|
|NumeroSemana   |Articulo            |CantidadIngreso |CantidadEgreso |CantidadFinal |LoQueQuiero|
|------------------------|--------------------|-----------------------|-----------------------|-------------------|-------------------|

|54                         |Jabón              |50                        |30                       |20                   |20                  | 
|------------------------|--------------------|-----------------------|-----------------------|-------------------|------------------|

|57                         |Jabón              |80                        |20                       |60                   |80                  | 
|------------------------|--------------------|-----------------------|-----------------------|-------------------|------------------|

|59                         |Jabón              |45                        |10                       |30                   |110                | 
|------------------------|--------------------|-----------------------|-----------------------|-------------------|------------------|

|53                         |Papel               |82                       |42                        |40                   |40                 | 
|------------------------|--------------------|-----------------------|-----------------------|-------------------|------------------|

|55                         |Papel               |35                       |10                        |25                   |65                 | 
|------------------------|--------------------|-----------------------|-----------------------|-------------------|------------------|

|56                         |Papel               |50                       |40                        |10                   |75                 | 
|------------------------|--------------------|-----------------------|-----------------------|-------------------|------------------|
Tagged: