Why does the Replace operator accepts only nominal values?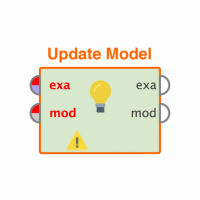 Christos_Karapapas
Member
Posts: 25
Contributor II
edited November 2019
in Help
The general concept of what I am trying to do is that I have trained a model and now I want to apply it on a single example.

My original dataset has too many attributes, so I thought, in order not to write all those values by hand, to just Store a part of it during training and then Retrieve and Filter by range 1-1 to get a single example.

And then just replace the values for just a few of its attributes and see the prediction.

So, when I use the Replace operator to replace the value of a nominal attribute everything is fine.

But when I use it to replace the value of an Integer attribute I get the following error "Wrong value type The attribute has value type Integer, should be Nominal".

Is there a way to avoid changing the type of the non-Nominal attributes to Nominal, just to perform a Replace operation and then changing them back to their original type?

The work around that I am trying is to convert from Numerical to Polynomial before the Replacement and then convert from Nominal to Numerical after the Replacement, for those specific attributes. However, this gives me an error during the Apply model that "The input ExampleSet does not match the training ExampleSet. Misfitting Attribute:myIntegerAttribute".