ALL FEATURE REQUESTS HERE ARE MONITORED BY OUR PRODUCT TEAM.

VOTING MATTERS!

IDEAS WITH HIGH NUMBERS OF VOTES (USUALLY ≥ 10) ARE PRIORITIZED IN OUR ROADMAP.

NOTE: IF YOU WISH TO SUGGEST A NEW FEATURE, PLEASE POST A NEW QUESTION AND TAG AS "FEATURE REQUEST". THANK YOU.
Feature Request: Model Simulator for Grouped Models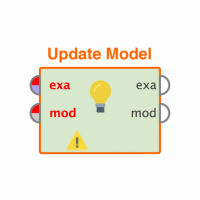 christos_karras
Member
Posts: 50
Guru
I have a "Grouped Model" that groups different model pre-processing steps, for example Normalization, Imputation, etc. I tried to use this model with the Model Simulator, but I get this error:
Process failed: Wrong input of type 'Grouped Model' at port 'model'. Expected type 'Model'. 

As a workaround, I could re-apply all the pre-processing steps and use only the actual model with Model Simulator. However, this makes experimenting with different pre-processing steps (enable/disable normalization, enable/disable imputation, etc) harder because I have to duplicate code to make sure the steps are correctly applied for the model simulator.

Would it be feasible for a future version to support Grouped Models on the model simulator? Is there any technical reason why it wouldn't be supported, or is it just a missing feature?
Tagged: