RapidMiner 9.7 is Now Available
Lots of amazing new improvements including true version control! Learn more about what's new here.
Logistic Regression Limited Data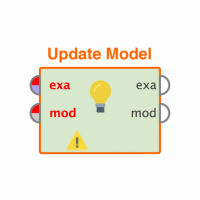 nathaliejoy
Member
Posts: 3
Learner I
I want to Use Logistic Regression in Rapidminer but I have less than 100 data. I am currently working in an Education Data Mining Project.I only have 94 rows total and this is all I have, is it okey to repeat the rows?
I want to know relationship between the National Achievement Test and their Grades and the likelihood they are going to pass or fail the exam.
The problem is that I have small number of row. Help me what to do.The following is my xml code:
<?xml version="1.0" encoding="UTF-8"?><process version="9.7.001">
  <context>
    <input/>
    <output/>
    <macros/>
  </context>
  <operator activated="true" class="process" compatibility="9.7.001" expanded="true" name="Process">
    <parameter key="logverbosity" value="init"/>
    <parameter key="random_seed" value="2001"/>
    <parameter key="send_mail" value="never"/>
    <parameter key="notification_email" value=""/>
    <parameter key="process_duration_for_mail" value="30"/>
    <parameter key="encoding" value="SYSTEM"/>
    <process expanded="true">
      <operator activated="true" class="read_excel" compatibility="9.7.001" expanded="true" height="68" name="Read Excel" width="90" x="45" y="34">
        <parameter key="excel_file" value="D:\MyDocuments\CMUFiles\RESEARCH AND EXTENSION\SHs Performance NAT in Bukidnon\ExcelSubjectTemplate\ABM.xlsx"/>
        <parameter key="sheet_selection" value="sheet number"/>
        <parameter key="sheet_number" value="1"/>
        <parameter key="imported_cell_range" value="A1"/>
        <parameter key="encoding" value="SYSTEM"/>
        <parameter key="first_row_as_names" value="true"/>
        <list key="annotations"/>
        <parameter key="date_format" value=""/>
        <parameter key="time_zone" value="SYSTEM"/>
        <parameter key="locale" value="English (United States)"/>
        <parameter key="read_all_values_as_polynominal" value="false"/>
        <list key="data_set_meta_data_information">
          <parameter key="0" value="Name.true.polynominal.attribute"/>
          <parameter key="1" value="ELS-G11-Q1.true.integer.attribute"/>
          <parameter key="2" value="ELS-G11-Q2.true.integer.attribute"/>
          <parameter key="3" value="PS-G11-Q3.true.integer.attribute"/>
          <parameter key="4" value="PS-G11-Q4.true.integer.attribute"/>
          <parameter key="5" value="SC-PS-NAT.true.real.attribute"/>
          <parameter key="6" value="SC-PS-NAT-Remarks.true.polynominal.attribute"/>
          <parameter key="7" value="SC-IL-NAT.true.real.attribute"/>
          <parameter key="8" value="SC-IL-NAT-Remarks.true.polynominal.attribute"/>
          <parameter key="9" value="SC-CT-NAT.true.real.attribute"/>
          <parameter key="10" value="SC-CT-NAT-Remarks.true.polynominal.attribute"/>
          <parameter key="11" value="Total-MPS-Science.true.real.attribute"/>
          <parameter key="12" value="Overall-Remarks-Science.true.polynominal.attribute"/>
          <parameter key="13" value="PD-G11-Q1.true.integer.attribute"/>
          <parameter key="14" value="PD-G11-Q2.true.integer.attribute"/>
          <parameter key="15" value="UCSP-G11-Q1.true.integer.attribute"/>
          <parameter key="16" value="UCSP-G11-Q2.true.integer.attribute"/>
          <parameter key="17" value="2CLPW-G12-Q1.true.integer.attribute"/>
          <parameter key="18" value="2CLPW-G12-Q2.true.integer.attribute"/>
          <parameter key="19" value="SS-PS-NAT.true.real.attribute"/>
          <parameter key="20" value="SS-PS-NAT-Remarks.true.polynominal.attribute"/>
          <parameter key="21" value="SS-IL-NAT.true.real.attribute"/>
          <parameter key="22" value="SS-IL-NAT-Remarks.true.polynominal.attribute"/>
          <parameter key="23" value="SS-CT-NAT.true.real.attribute"/>
          <parameter key="24" value="SS-CT-NAT-Remarks.true.polynominal.attribute"/>
          <parameter key="25" value="Total-MPS.true.real.attribute"/>
          <parameter key="26" value="Overall-Remarks-Social-Science.true.polynominal.attribute"/>
          <parameter key="27" value="Ph-G12-Q1.true.integer.attribute"/>
          <parameter key="28" value="Ph-G12-Q2.true.integer.attribute"/>
          <parameter key="29" value="Ph-PS-NAT.true.real.attribute"/>
          <parameter key="30" value="Ph-PS-NAT-Remarks.true.polynominal.attribute"/>
          <parameter key="31" value="Ph-IL-NAT.true.real.attribute"/>
          <parameter key="32" value="Ph-IL-NAT-Remarks.true.polynominal.attribute"/>
          <parameter key="33" value="Ph-CT-NAT.true.real.attribute"/>
          <parameter key="34" value="Ph-CT-NAT-Remarks.true.polynominal.attribute"/>
          <parameter key="35" value="Total-MPS-Philosophy.true.real.attribute"/>
          <parameter key="36" value="Overall-Remarks-Philosophy.true.polynominal.attribute"/>
          <parameter key="37" value="AL.true.polynominal.attribute"/>
          <parameter key="38" value="GM-G11-Q1.true.integer.attribute"/>
          <parameter key="39" value="GM-G11-Q2.true.integer.attribute"/>
          <parameter key="40" value="M-PS-NAT.true.real.attribute"/>
          <parameter key="41" value="M-PS-NAT-Remarks.true.polynominal.attribute"/>
          <parameter key="42" value="M-IL-NAT.true.real.attribute"/>
          <parameter key="43" value="M-IL-NAT-Remarks.true.polynominal.attribute"/>
          <parameter key="44" value="M-CT-NAT.true.real.attribute"/>
          <parameter key="45" value="M-CT-NAT-Remarks.true.polynominal.attribute"/>
          <parameter key="46" value="Total-MPS-Math.true.real.attribute"/>
          <parameter key="47" value="Overall-Remarks-Math.true.polynominal.attribute"/>
          <parameter key="48" value="OC-G11-Q1.true.integer.attribute"/>
          <parameter key="49" value="OC-G11-Q2.true.integer.attribute"/>
          <parameter key="50" value="F-G11-Q1.true.integer.attribute"/>
          <parameter key="51" value="F-G11-Q2.true.integer.attribute"/>
          <parameter key="52" value="EAPP-G11-Q1.true.integer.attribute"/>
          <parameter key="53" value="EAPP-G11-Q2.true.integer.attribute"/>
          <parameter key="54" value="RWS-G11-Q3.true.integer.attribute"/>
          <parameter key="55" value="RWS-G11-Q4.true.integer.attribute"/>
          <parameter key="56" value="F-G11-Q3.true.integer.attribute"/>
          <parameter key="57" value="F-G11-Q4.true.integer.attribute"/>
          <parameter key="58" value="LC-PS-NAT.true.real.attribute"/>
          <parameter key="59" value="LC-PS-NAT-Rem.true.polynominal.attribute"/>
          <parameter key="60" value="LC-IL-NAT.true.real.attribute"/>
          <parameter key="61" value="LC-IL-NAT-Rem.true.polynominal.attribute"/>
          <parameter key="62" value="LC-CT-NAT.true.real.attribute"/>
          <parameter key="63" value="LC-CT-NAT-Rem.true.real.attribute"/>
          <parameter key="64" value="Total-MPS-LC.true.real.attribute"/>
          <parameter key="65" value="overall-remarks-LC.true.polynominal.attribute"/>
          <parameter key="66" value="ICT-G11-Q3.true.integer.attribute"/>
          <parameter key="67" value="ICT-G11-Q4.true.integer.attribute"/>
          <parameter key="68" value="MIL-G12-Q1.true.integer.attribute"/>
          <parameter key="69" value="MIL-G12-Q2.true.integer.attribute"/>
          <parameter key="70" value="MIL-PS-NAT.true.real.attribute"/>
          <parameter key="71" value="MIL-PS-NAT-Remarks.true.polynominal.attribute"/>
          <parameter key="72" value="MIL-IL-NAT.true.real.attribute"/>
          <parameter key="73" value="MIL-IL-NAT-Remarks.true.polynominal.attribute"/>
          <parameter key="74" value="MIL-CT-NAT.true.real.attribute"/>
          <parameter key="75" value="MIL-CT-NAT-Remarks.true.polynominal.attribute"/>
          <parameter key="76" value="Total-MPS-MIL.true.real.attribute"/>
          <parameter key="77" value="Overall-Remarks-MIL.true.polynominal.attribute"/>
          <parameter key="78" value="Arts-G12-Q1.true.integer.attribute"/>
          <parameter key="79" value="Arts-G12-Q2.true.integer.attribute"/>
          <parameter key="80" value="Arts-PS-NAT.true.real.attribute"/>
          <parameter key="81" value="Arts-PS-NAT-Remarks.true.polynominal.attribute"/>
          <parameter key="82" value="ARTS-IL-NAT.true.real.attribute"/>
          <parameter key="83" value="ARTS-IL-NAT-Remarks.true.polynominal.attribute"/>
          <parameter key="84" value="ARTS-CT-NAT.true.real.attribute"/>
          <parameter key="85" value="ARTS-CT-NAT-Remarks.true.polynominal.attribute"/>
          <parameter key="86" value="Total-MPS-Hummanities.true.real.attribute"/>
          <parameter key="87" value="Overall-Remarks-Humanities.true.polynominal.attribute"/>
          <parameter key="88" value="PS-MPS-All-Subject.true.real.attribute"/>
          <parameter key="89" value="PS-MPS-All-Subject-Remarks.true.polynominal.attribute"/>
          <parameter key="90" value="CT-MPS-All-Subject.true.real.attribute"/>
          <parameter key="91" value="CT-MPS-All-Subject-Remarks.true.polynominal.attribute"/>
          <parameter key="92" value="IL-MPS-All-Subject.true.real.attribute"/>
          <parameter key="93" value="IL-MPS-All-Subject-Remarks.true.polynominal.attribute"/>
          <parameter key="94" value="NAT-Grade.true.real.attribute"/>
          <parameter key="95" value="NAT-Grade-Remarks.true.polynominal.attribute"/>
        </list>
        <parameter key="read_not_matching_values_as_missings" value="true"/>
        <parameter key="datamanagement" value="double_array"/>
        <parameter key="data_management" value="auto"/>
      </operator>
      <operator activated="true" class="subprocess" compatibility="9.7.001" expanded="true" height="82" name="Subprocess" width="90" x="179" y="34">
        <process expanded="true">
          <operator activated="true" class="replace_missing_values" compatibility="9.7.001" expanded="true" height="103" name="Replace Missing Values" width="90" x="45" y="34">
            <parameter key="return_preprocessing_model" value="false"/>
            <parameter key="create_view" value="false"/>
            <parameter key="attribute_filter_type" value="all"/>
            <parameter key="attribute" value=""/>
            <parameter key="attributes" value=""/>
            <parameter key="use_except_expression" value="false"/>
            <parameter key="value_type" value="attribute_value"/>
            <parameter key="use_value_type_exception" value="false"/>
            <parameter key="except_value_type" value="time"/>
            <parameter key="block_type" value="attribute_block"/>
            <parameter key="use_block_type_exception" value="false"/>
            <parameter key="except_block_type" value="value_matrix_row_start"/>
            <parameter key="invert_selection" value="false"/>
            <parameter key="include_special_attributes" value="false"/>
            <parameter key="default" value="average"/>
            <list key="columns"/>
          </operator>
          <operator activated="true" class="generate_id" compatibility="9.7.001" expanded="true" height="82" name="Generate ID" width="90" x="246" y="34">
            <parameter key="create_nominal_ids" value="false"/>
            <parameter key="offset" value="0"/>
          </operator>
          <operator activated="true" class="select_attributes" compatibility="9.7.001" expanded="true" height="82" name="Select Attributes" width="90" x="514" y="34">
            <parameter key="attribute_filter_type" value="subset"/>
            <parameter key="attribute" value=""/>
            <parameter key="attributes" value="2CLPW-G12-Q1|2CLPW-G12-Q2|Arts-G12-Q1|Arts-G12-Q2|EAPP-G11-Q1|EAPP-G11-Q2|ELS-G11-Q1|ELS-G11-Q2|F-G11-Q1|F-G11-Q2|F-G11-Q3|F-G11-Q4|GM-G11-Q1|GM-G11-Q2|ICT-G11-Q3|ICT-G11-Q4|id|MIL-G12-Q1|MIL-G12-Q2|NAT-Grade-Remarks|OC-G11-Q1|OC-G11-Q2|PD-G11-Q1|PD-G11-Q2|Ph-G12-Q1|Ph-G12-Q2|PS-G11-Q3|PS-G11-Q4|RWS-G11-Q3|RWS-G11-Q4|UCSP-G11-Q1|UCSP-G11-Q2"/>
            <parameter key="use_except_expression" value="false"/>
            <parameter key="value_type" value="attribute_value"/>
            <parameter key="use_value_type_exception" value="false"/>
            <parameter key="except_value_type" value="time"/>
            <parameter key="block_type" value="attribute_block"/>
            <parameter key="use_block_type_exception" value="false"/>
            <parameter key="except_block_type" value="value_matrix_row_start"/>
            <parameter key="invert_selection" value="false"/>
            <parameter key="include_special_attributes" value="false"/>
          </operator>
          <connect from_port="in 1" to_op="Replace Missing Values" to_port="example set input"/>
          <connect from_op="Replace Missing Values" from_port="example set output" to_op="Generate ID" to_port="example set input"/>
          <connect from_op="Generate ID" from_port="example set output" to_op="Select Attributes" to_port="example set input"/>
          <connect from_op="Select Attributes" from_port="example set output" to_port="out 1"/>
          <portSpacing port="source_in 1" spacing="0"/>
          <portSpacing port="source_in 2" spacing="0"/>
          <portSpacing port="sink_out 1" spacing="0"/>
          <portSpacing port="sink_out 2" spacing="0"/>
        </process>
      </operator>
      <operator activated="true" class="set_role" compatibility="9.7.001" expanded="true" height="82" name="Set Role" width="90" x="313" y="34">
        <parameter key="attribute_name" value="id"/>
        <parameter key="target_role" value="batch"/>
        <list key="set_additional_roles">
          <parameter key="NAT-Grade-Remarks" value="label"/>
        </list>
      </operator>
      <operator activated="true" class="optimize_selection_evolutionary" compatibility="9.7.001" expanded="true" height="103" name="Optimize Selection (Evolutionary)" width="90" x="514" y="34">
        <parameter key="use_exact_number_of_attributes" value="false"/>
        <parameter key="restrict_maximum" value="false"/>
        <parameter key="min_number_of_attributes" value="1"/>
        <parameter key="max_number_of_attributes" value="1"/>
        <parameter key="exact_number_of_attributes" value="1"/>
        <parameter key="initialize_with_input_weights" value="false"/>
        <parameter key="population_size" value="5"/>
        <parameter key="maximum_number_of_generations" value="30"/>
        <parameter key="use_early_stopping" value="false"/>
        <parameter key="generations_without_improval" value="2"/>
        <parameter key="normalize_weights" value="true"/>
        <parameter key="use_local_random_seed" value="false"/>
        <parameter key="local_random_seed" value="1992"/>
        <parameter key="user_result_individual_selection" value="false"/>
        <parameter key="show_population_plotter" value="false"/>
        <parameter key="plot_generations" value="10"/>
        <parameter key="constraint_draw_range" value="false"/>
        <parameter key="draw_dominated_points" value="true"/>
        <parameter key="maximal_fitness" value="Infinity"/>
        <parameter key="selection_scheme" value="tournament"/>
        <parameter key="tournament_size" value="0.25"/>
        <parameter key="start_temperature" value="1.0"/>
        <parameter key="dynamic_selection_pressure" value="true"/>
        <parameter key="keep_best_individual" value="false"/>
        <parameter key="save_intermediate_weights" value="false"/>
        <parameter key="intermediate_weights_generations" value="10"/>
        <parameter key="p_initialize" value="0.5"/>
        <parameter key="p_mutation" value="-1.0"/>
        <parameter key="p_crossover" value="0.5"/>
        <parameter key="crossover_type" value="uniform"/>
        <process expanded="true">
          <operator activated="true" class="concurrency:cross_validation" compatibility="9.7.001" expanded="true" height="145" name="Cross Validation" width="90" x="112" y="34">
            <parameter key="split_on_batch_attribute" value="false"/>
            <parameter key="leave_one_out" value="false"/>
            <parameter key="number_of_folds" value="10"/>
            <parameter key="sampling_type" value="linear sampling"/>
            <parameter key="use_local_random_seed" value="false"/>
            <parameter key="local_random_seed" value="1992"/>
            <parameter key="enable_parallel_execution" value="true"/>
            <process expanded="true">
              <operator activated="true" class="polynomial_by_binomial_classification" compatibility="9.7.001" expanded="true" height="82" name="Polynominal by Binominal Classification" width="90" x="112" y="34">
                <parameter key="classification_strategies" value="1 against all"/>
                <parameter key="random_code_multiplicator" value="2.0"/>
                <parameter key="use_local_random_seed" value="false"/>
                <parameter key="local_random_seed" value="1992"/>
                <process expanded="true">
                  <operator activated="true" class="h2o:logistic_regression" compatibility="9.7.001" expanded="true" height="124" name="Logistic Regression" width="90" x="112" y="34">
                    <parameter key="solver" value="AUTO"/>
                    <parameter key="reproducible" value="false"/>
                    <parameter key="maximum_number_of_threads" value="4"/>
                    <parameter key="use_regularization" value="false"/>
                    <parameter key="lambda_search" value="false"/>
                    <parameter key="number_of_lambdas" value="0"/>
                    <parameter key="lambda_min_ratio" value="0.0"/>
                    <parameter key="early_stopping" value="true"/>
                    <parameter key="stopping_rounds" value="3"/>
                    <parameter key="stopping_tolerance" value="0.001"/>
                    <parameter key="standardize" value="true"/>
                    <parameter key="non-negative_coefficients" value="false"/>
                    <parameter key="add_intercept" value="true"/>
                    <parameter key="compute_p-values" value="true"/>
                    <parameter key="remove_collinear_columns" value="true"/>
                    <parameter key="missing_values_handling" value="MeanImputation"/>
                    <parameter key="max_iterations" value="0"/>
                    <parameter key="max_runtime_seconds" value="0"/>
                  </operator>
                  <connect from_port="training set" to_op="Logistic Regression" to_port="training set"/>
                  <connect from_op="Logistic Regression" from_port="model" to_port="model"/>
                  <portSpacing port="source_training set" spacing="0"/>
                  <portSpacing port="sink_model" spacing="0"/>
                </process>
              </operator>
              <connect from_port="training set" to_op="Polynominal by Binominal Classification" to_port="training set"/>
              <connect from_op="Polynominal by Binominal Classification" from_port="model" to_port="model"/>
              <connect from_op="Polynominal by Binominal Classification" from_port="example set" to_port="through 1"/>
              <portSpacing port="source_training set" spacing="0"/>
              <portSpacing port="sink_model" spacing="0"/>
              <portSpacing port="sink_through 1" spacing="0"/>
              <portSpacing port="sink_through 2" spacing="0"/>
            </process>
            <process expanded="true">
              <operator activated="true" class="apply_model" compatibility="9.7.001" expanded="true" height="82" name="Apply Model" width="90" x="45" y="34">
                <list key="application_parameters"/>
                <parameter key="create_view" value="false"/>
              </operator>
              <operator activated="true" class="performance_classification" compatibility="9.7.001" expanded="true" height="82" name="Performance" width="90" x="179" y="34">
                <parameter key="main_criterion" value="first"/>
                <parameter key="accuracy" value="true"/>
                <parameter key="classification_error" value="false"/>
                <parameter key="kappa" value="false"/>
                <parameter key="weighted_mean_recall" value="false"/>
                <parameter key="weighted_mean_precision" value="false"/>
                <parameter key="spearman_rho" value="false"/>
                <parameter key="kendall_tau" value="false"/>
                <parameter key="absolute_error" value="false"/>
                <parameter key="relative_error" value="false"/>
                <parameter key="relative_error_lenient" value="false"/>
                <parameter key="relative_error_strict" value="false"/>
                <parameter key="normalized_absolute_error" value="false"/>
                <parameter key="root_mean_squared_error" value="false"/>
                <parameter key="root_relative_squared_error" value="false"/>
                <parameter key="squared_error" value="false"/>
                <parameter key="correlation" value="false"/>
                <parameter key="squared_correlation" value="false"/>
                <parameter key="cross-entropy" value="false"/>
                <parameter key="margin" value="false"/>
                <parameter key="soft_margin_loss" value="false"/>
                <parameter key="logistic_loss" value="false"/>
                <parameter key="skip_undefined_labels" value="true"/>
                <parameter key="use_example_weights" value="true"/>
                <list key="class_weights"/>
              </operator>
              <connect from_port="model" to_op="Apply Model" to_port="model"/>
              <connect from_port="test set" to_op="Apply Model" to_port="unlabelled data"/>
              <connect from_op="Apply Model" from_port="labelled data" to_op="Performance" to_port="labelled data"/>
              <connect from_op="Performance" from_port="performance" to_port="performance 1"/>
              <portSpacing port="source_model" spacing="0"/>
              <portSpacing port="source_test set" spacing="0"/>
              <portSpacing port="source_through 1" spacing="0"/>
              <portSpacing port="source_through 2" spacing="0"/>
              <portSpacing port="sink_test set results" spacing="0"/>
              <portSpacing port="sink_performance 1" spacing="0"/>
              <portSpacing port="sink_performance 2" spacing="0"/>
            </process>
          </operator>
          <operator activated="true" class="apply_model" compatibility="9.7.001" expanded="true" height="82" name="Apply Model (2)" width="90" x="380" y="34">
            <list key="application_parameters"/>
            <parameter key="create_view" value="false"/>
          </operator>
          <operator activated="true" class="set_role" compatibility="9.7.001" expanded="true" height="82" name="Set Role (2)" width="90" x="514" y="34">
            <parameter key="attribute_name" value="NAT-Grade-Remarks"/>
            <parameter key="target_role" value="label"/>
            <list key="set_additional_roles">
              <parameter key="prediction(NAT-Grade-Remarks)" value="prediction"/>
            </list>
          </operator>
          <operator activated="true" class="performance_classification" compatibility="9.7.001" expanded="true" height="82" name="Performance (2)" width="90" x="648" y="34">
            <parameter key="main_criterion" value="first"/>
            <parameter key="accuracy" value="true"/>
            <parameter key="classification_error" value="false"/>
            <parameter key="kappa" value="false"/>
            <parameter key="weighted_mean_recall" value="false"/>
            <parameter key="weighted_mean_precision" value="false"/>
            <parameter key="spearman_rho" value="false"/>
            <parameter key="kendall_tau" value="false"/>
            <parameter key="absolute_error" value="false"/>
            <parameter key="relative_error" value="false"/>
            <parameter key="relative_error_lenient" value="false"/>
            <parameter key="relative_error_strict" value="false"/>
            <parameter key="normalized_absolute_error" value="false"/>
            <parameter key="root_mean_squared_error" value="false"/>
            <parameter key="root_relative_squared_error" value="false"/>
            <parameter key="squared_error" value="false"/>
            <parameter key="correlation" value="false"/>
            <parameter key="squared_correlation" value="false"/>
            <parameter key="cross-entropy" value="false"/>
            <parameter key="margin" value="false"/>
            <parameter key="soft_margin_loss" value="false"/>
            <parameter key="logistic_loss" value="false"/>
            <parameter key="skip_undefined_labels" value="true"/>
            <parameter key="use_example_weights" value="true"/>
            <list key="class_weights"/>
          </operator>
          <connect from_port="example set" to_op="Cross Validation" to_port="example set"/>
          <connect from_op="Cross Validation" from_port="model" to_op="Apply Model (2)" to_port="model"/>
          <connect from_op="Cross Validation" from_port="example set" to_op="Apply Model (2)" to_port="unlabelled data"/>
          <connect from_op="Apply Model (2)" from_port="labelled data" to_op="Set Role (2)" to_port="example set input"/>
          <connect from_op="Set Role (2)" from_port="example set output" to_op="Performance (2)" to_port="labelled data"/>
          <connect from_op="Performance (2)" from_port="performance" to_port="performance"/>
          <portSpacing port="source_example set" spacing="0"/>
          <portSpacing port="source_through 1" spacing="0"/>
          <portSpacing port="sink_performance" spacing="0"/>
        </process>
      </operator>
      <connect from_op="Read Excel" from_port="output" to_op="Subprocess" to_port="in 1"/>
      <connect from_op="Subprocess" from_port="out 1" to_op="Set Role" to_port="example set input"/>
      <connect from_op="Set Role" from_port="example set output" to_op="Optimize Selection (Evolutionary)" to_port="example set in"/>
      <connect from_op="Optimize Selection (Evolutionary)" from_port="example set out" to_port="result 1"/>
      <connect from_op="Optimize Selection (Evolutionary)" from_port="weights" to_port="result 2"/>
      <connect from_op="Optimize Selection (Evolutionary)" from_port="performance" to_port="result 3"/>
      <portSpacing port="source_input 1" spacing="0"/>
      <portSpacing port="sink_result 1" spacing="0"/>
      <portSpacing port="sink_result 2" spacing="0"/>
      <portSpacing port="sink_result 3" spacing="0"/>
      <portSpacing port="sink_result 4" spacing="0"/>
    </process>
  </operator>
</process>
Tagged: