🦉&nbsp🎤&nbsp&nbsp&nbspRapidMiner Wisdom 2020 - CALL FOR SPEAKERS&nbsp&nbsp&nbsp🦉&nbsp🎤
We are inviting all community members to submit proposals to speak at Wisdom 2020 in Boston.
Whether it's a cool RapidMiner trick or a use case implementation, we want to see what you have.
Form link is below and deadline for submissions is November 15. See you in Boston!
"Bagging regression trees: Bagging and W-M5P"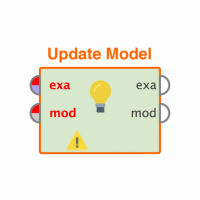 nicugeorgian
Member
Posts: 31
&nbsp

Guru
Hello,
How can I apply
bagging
to the M5P algorithm, i.e., how can I use the operators Bagging and W-M5P together?
I use W-M5P to predict, by means of a regression tree, a numerical label based on polynomial and numerical attributes.
If I use W-M5P as an inner operator of the Bagging operator,

<operator name="Bagging" class="Bagging" expanded="yes">
         <operator name="W-M5P" class="W-M5P">
                <parameter key="M"	value="10.0"/>
                <parameter key="N"	value="true"/>
                <parameter key="R"	value="true"/>
         </operator>
</operator>

then the process complains, saying that Bagging is
not able to support numerical labels
Any ideas?
Thanks,
Geo
Tagged: