🦉&nbsp🎤&nbsp&nbsp&nbspRapidMiner Wisdom 2020 - CALL FOR SPEAKERS&nbsp&nbsp&nbsp🦉&nbsp🎤
We are inviting all community members to submit proposals to speak at Wisdom 2020 in Boston.
Whether it's a cool RapidMiner trick or a use case implementation, we want to see what you have.
Form link is below and deadline for submissions is November 15. See you in Boston!
How to change an information of an attribute?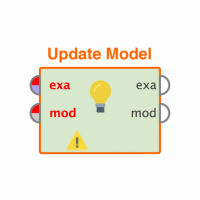 marcelolimabati
Member
Posts: 2
Learner I
edited December 2018
in Help
Hi Experts,
Hi Experts,
I'm starting to work with rapidminer and I need your help.
I've an database with 23 attributes and I need to change the information of attribute "outcome". This attribute "outcome" has the informations "Lived", "Died" and "Euthanized", in others words, after I read the csv file I'll need treat the database changing the informations of attribute "outcome".
I would like to change all information equal "Euthanized" to "Died". What operetors can I use?
Thanks in advance my friends.
Marcelo Batista
Tagged: