🥳 RAPIDMINER 9.9 IS OUT!!! 🥳
The updates in 9.9 power advanced use cases and offer productivity enhancements for users who prefer to code.
"Running Process on Server"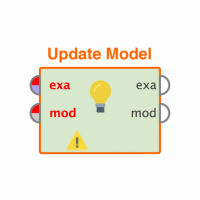 Alexandros_Tzekas51
Member
Posts: 28
Contributor I
Hello Guys,

I 'm trying to run processes on Server but i fail everytime! I did go to VIEW DETAILS and get the ERROR MESSAGE:
"Out of memory- The process has failed as it ran out of memory. Try to run the process again with less data or choose another queue with larger Job Containers."
I did as Edin_Klapic had said to me ("You need to assign more RAM to the job agent. The file is agent.properties located in job-agent/home/config.") and assign more RAM to the job agent. I even tried to run a proccess with very very low RAM requirements (some kB) but didn't work!
Any ideas?
I give you the LOG:
2018-12-19 15:00:42.111  INFO 5855 --- [main] c.r.execution.jobcontainer.Application   : Starting Application on alex-HP-Compaq-8000-Elite-CMT-PC with PID 5855 (/home/alex/rapidminer-server/rapidminer-server-9.0.4/job-agent/lib/container/rapidminer-jobcontainer-0.4.7.jar started by root in /home/alex/rapidminer-server/rapidminer-server-9.0.4/bin)
2018-12-19 15:00:42.135  INFO 5855 --- [main] c.r.execution.jobcontainer.Application   : No active profile set, falling back to default profiles: default
2018-12-19 15:00:50.205  INFO 5855 --- [main] s.c.a.AnnotationConfigApplicationContext : Refreshing org.spring[email protected]2d1ef81a: startup date [Wed Dec 19 15:00:50 EET 2018]; root of context hierarchy
2018-12-19 15:00:54.428  INFO 5855 --- [main] o.s.s.c.ThreadPoolTaskScheduler          : Initializing ExecutorService  'taskScheduler'
2018-12-19 15:00:58.428  INFO 5855 --- [main] o.s.j.e.a.AnnotationMBeanExporter        : Registering beans for JMX exposure on startup
2018-12-19 15:00:58.442  INFO 5855 --- [main] o.s.c.support.DefaultLifecycleProcessor  : Starting beans in phase 0
2018-12-19 15:00:58.602  INFO 5855 --- [taskScheduler-2] c.r.e.j.service.RemoteRepositoryService  : Trying to update JWT token from auth properties.
2018-12-19 15:00:58.600  INFO 5855 --- [taskScheduler-1] c.r.e.j.service.OutOfMemoryWatchdog      : Current memory usage is 544MB / 500000MB
2018-12-19 15:00:58.623  INFO 5855 --- [taskScheduler-2] c.r.e.j.service.RemoteRepositoryService  : Updated JWT token from auth properties file.
2018-12-19 15:00:58.686  INFO 5855 --- [main] c.r.e.core.RapidMinerInitializer         : Changing 'user.home' system property to '/home/alex/rapidminer-server/rapidminer-server-9.0.4/job-agent/home/data/jobs/75d9e747-7381-45dc-963b-dd18ba50b7a4'
2018-12-19 15:00:58.686  INFO 5855 --- [main] c.r.e.core.RapidMinerInitializer         : Generating new in-memory cipher key
2018-12-19 15:00:59.017  INFO 5855 --- [main] c.r.e.core.RapidMinerInitializer         : Loading JDBC properties from '/home/alex/rapidminer-server/rapidminer-server-9.0.4/job-agent/home/resources/jdbc/jdbc_properties.xml'
2018-12-19 15:00:59.580  INFO 5855 --- [main] c.r.e.core.RapidMinerInitializer         : Setting pre-defined RapidMiner properties from '/home/alex/rapidminer-server/rapidminer-server-9.0.4/job-agent/home/data/jobs/75d9e747-7381-45dc-963b-dd18ba50b7a4/rapidminer.properties'
2018-12-19 15:00:59.597  INFO 5855 --- [main] c.r.e.core.RapidMinerInitializer         : Initializing the RapidMiner Core
2018-12-19 15:00:59.597  INFO 5855 --- [main] c.r.e.core.RapidMinerInitializer         : Setting execution mode to 'JOB_CONTAINER'
2018-12-19 15:00:59.711  INFO 5855 --- [main] c.r.e.core.RapidMinerInitializer         : Loading bundled extension from '/home/alex/rapidminer-server/rapidminer-server-9.0.4/job-agent/lib/container/plugins'
2018-12-19 15:00:59.713  INFO 5855 --- [main] c.r.e.core.RapidMinerInitializer         : Loading custom extensions from '/home/alex/rapidminer-server/rapidminer-server-9.0.4/job-agent/home/resources/extensions'
2018-12-19 15:00:59.730  INFO 5855 --- [main] com.rapidminer                           : Performing upgrade  to version 9.0.003
2018-12-19 15:00:59.946  INFO 5855 --- [main] com.rapidminer                           : Set locale to en.
2018-12-19 15:01:00.106  INFO 5855 --- [main] PlatformUtilities                        : rapidminer.home is '/home/alex/rapidminer-server/rapidminer-server-9.0.4/job-agent/lib/container'.
2018-12-19 15:01:00.164  INFO 5855 --- [main] com.rapidminer                           : Initializing license manager.
2018-12-19 15:01:00.438  INFO 5855 --- [main] com.rapidminer                           : Cannot access file system in execution mode JOB_CONTAINER. Not loading repositories.
2018-12-19 15:01:03.663  INFO 5855 --- [taskScheduler-1] c.r.e.j.service.OutOfMemoryWatchdog      : Current memory usage is 544MB / 500000MB
2018-12-19 15:01:05.307  INFO 5855 --- [main] com.rapidminer                           : Register plugin: Model Simulator
2018-12-19 15:01:05.307  INFO 5855 --- [main] com.rapidminer                           : Register plugin: Time Series
2018-12-19 15:01:05.307  INFO 5855 --- [main] com.rapidminer                           : Register plugin: Professional
2018-12-19 15:01:05.308  INFO 5855 --- [main] com.rapidminer                           : Register plugin: Process Scheduling
2018-12-19 15:01:05.308  INFO 5855 --- [main] com.rapidminer                           : Register plugin: PMML
2018-12-19 15:01:05.308  INFO 5855 --- [main] com.rapidminer                           : Register plugin: JDBC Connectors
2018-12-19 15:01:05.308  INFO 5855 --- [main] com.rapidminer                           : Register plugin: Advanced File Connectors
2018-12-19 15:01:05.308  INFO 5855 --- [main] com.rapidminer                           : Register plugin: Productivity
2018-12-19 15:01:05.308  INFO 5855 --- [main] com.rapidminer                           : Register plugin: Social Media
2018-12-19 15:01:05.308  INFO 5855 --- [main] com.rapidminer                           : Register plugin: Legacy Result Access
2018-12-19 15:01:05.308  INFO 5855 --- [main] com.rapidminer                           : Register plugin: Concurrency
2018-12-19 15:01:05.308  INFO 5855 --- [main] com.rapidminer                           : Register plugin: Remote Repository
2018-12-19 15:01:05.308  INFO 5855 --- [main] com.rapidminer                           : Register plugin: H2O
2018-12-19 15:01:05.309  INFO 5855 --- [main] com.rapidminer                           : Register plugin: Cloud Connectivity
2018-12-19 15:01:06.900  INFO 5855 --- [main] com.rapidminer                           : Registered configurator Twitter Connection.
2018-12-19 15:01:07.458  INFO 5855 --- [main] com.rapidminer                           : Registered configurator Salesforce Connection.
2018-12-19 15:01:07.458  INFO 5855 --- [main] com.rapidminer                           : Registered configurator Amazon S3 Connection.
2018-12-19 15:01:07.459  INFO 5855 --- [main] com.rapidminer                           : Registered configurator Azure Blob Storage Connection.
2018-12-19 15:01:07.472  INFO 5855 --- [main] com.rapidminer                           : Registered configurator Google Cloud Storage Connection.
2018-12-19 15:01:07.472  INFO 5855 --- [main] com.rapidminer                           : Registered configurator Dropbox Connection.
2018-12-19 15:01:08.664  INFO 5855 --- [taskScheduler-3] c.r.e.j.service.OutOfMemoryWatchdog      : Current memory usage is 576MB / 500000MB
Best Regards,
Tzekas Alexandros

Tagged: