RapidMiner 9.7 is Now Available
Lots of amazing new improvements including true version control! Learn more about what's new here.
RM 9.1 feedback : Let's talk of the new Automatic Feature Engineering (FS) - Part 2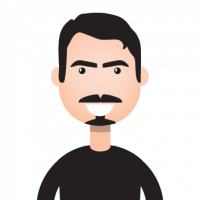 lionelderkrikor
Moderator, RapidMiner Certified Analyst, Member
Posts: 1,068
&nbsp
&nbsp

Unicorn
edited January 2019
in Help
Hi,
This topic of feature selection definitely inspires me : 
1/ Optimize Selection (Evolutionary) operator vs AFE operator :
If I good understand,
AFE
operator is using an evolutionnary algorithm, so we must, a priori, find the same results with the 2 operators.
It is not the case. For example, here the results with the Titanic dataset and a DT model : 
 - with OS (Evol) ==> acc = 81,20 % / feature set = 5 features
 - with ASE (with "balance for accuracy" = 1)==> acc=  79,07 %  / feature set = 1 feature
Why ASE did not conclude the same feature set and in fine obtains the same performance ?
2/ Unexpected results with the "balance for accuracy" parameter of the AFE operator : 
Always with the Titanic dataset / DT model : 
When we set "Balance for accuracy"  = 0 (so  we expect the simplier feature set) , we obtain the ......original dataset !  : 
and when we set  "Balance for accuracy" = 1 , we obtain  : 
Why this last feature set is not obtained with "balance for accuracy" = 0 ? From my point of view, the resulting feature sets are not 
consistent with the value of "balance for accuracy" parameter...
3/ The tutorial associated to the AFE operator is broken : there are missing links between some operators...
4/ Performance output port of AFE ::  
There is a performance output port inside the AFE operator 
 but there is no performance output port outside the operator :   
Is there any reason to that ? maybe, in practice, the AFE need to be itself cross-validated ?
In conclusion, can you provide some clarifications to all these items ?
Thanks you for your listening,
Regards,
Lionel
NB : The process :
<?xml version="1.0" encoding="UTF-8"?><process version="9.1.000">
  <context>
    <input/>
    <output/>
    <macros/>
  </context>
  <operator activated="true" class="process" compatibility="9.1.000" expanded="true" name="Process">
    <parameter key="logverbosity" value="init"/>
    <parameter key="random_seed" value="2001"/>
    <parameter key="send_mail" value="never"/>
    <parameter key="notification_email" value=""/>
    <parameter key="process_duration_for_mail" value="30"/>
    <parameter key="encoding" value="SYSTEM"/>
    <process expanded="true">
      <operator activated="true" class="retrieve" compatibility="9.1.000" expanded="true" height="68" name="Retrieve Titanic" width="90" x="112" y="85">
        <parameter key="repository_entry" value="//Samples/data/Titanic"/>
      </operator>
      <operator activated="true" class="select_attributes" compatibility="9.1.000" expanded="true" height="82" name="Select Attributes" width="90" x="246" y="85">
        <parameter key="attribute_filter_type" value="subset"/>
        <parameter key="attribute" value=""/>
        <parameter key="attributes" value="Ticket Number|Name|Cabin"/>
        <parameter key="use_except_expression" value="false"/>
        <parameter key="value_type" value="attribute_value"/>
        <parameter key="use_value_type_exception" value="false"/>
        <parameter key="except_value_type" value="time"/>
        <parameter key="block_type" value="attribute_block"/>
        <parameter key="use_block_type_exception" value="false"/>
        <parameter key="except_block_type" value="value_matrix_row_start"/>
        <parameter key="invert_selection" value="true"/>
        <parameter key="include_special_attributes" value="false"/>
      </operator>
      <operator activated="true" class="set_role" compatibility="9.1.000" expanded="true" height="82" name="Set Role" width="90" x="380" y="85">
        <parameter key="attribute_name" value="Survived"/>
        <parameter key="target_role" value="label"/>
        <list key="set_additional_roles"/>
      </operator>
      <operator activated="true" class="multiply" compatibility="9.1.000" expanded="true" height="103" name="Multiply" width="90" x="514" y="85"/>
      <operator activated="true" class="optimize_selection_evolutionary" compatibility="9.1.000" expanded="true" height="103" name="Optimize Selection (Evolutionary)" width="90" x="648" y="85">
        <parameter key="use_exact_number_of_attributes" value="false"/>
        <parameter key="restrict_maximum" value="false"/>
        <parameter key="min_number_of_attributes" value="1"/>
        <parameter key="max_number_of_attributes" value="1"/>
        <parameter key="exact_number_of_attributes" value="1"/>
        <parameter key="initialize_with_input_weights" value="false"/>
        <parameter key="population_size" value="5"/>
        <parameter key="maximum_number_of_generations" value="30"/>
        <parameter key="use_early_stopping" value="false"/>
        <parameter key="generations_without_improval" value="2"/>
        <parameter key="normalize_weights" value="true"/>
        <parameter key="use_local_random_seed" value="false"/>
        <parameter key="local_random_seed" value="1992"/>
        <parameter key="user_result_individual_selection" value="false"/>
        <parameter key="show_population_plotter" value="false"/>
        <parameter key="plot_generations" value="10"/>
        <parameter key="constraint_draw_range" value="false"/>
        <parameter key="draw_dominated_points" value="true"/>
        <parameter key="maximal_fitness" value="Infinity"/>
        <parameter key="selection_scheme" value="tournament"/>
        <parameter key="tournament_size" value="0.25"/>
        <parameter key="start_temperature" value="1.0"/>
        <parameter key="dynamic_selection_pressure" value="true"/>
        <parameter key="keep_best_individual" value="false"/>
        <parameter key="save_intermediate_weights" value="false"/>
        <parameter key="intermediate_weights_generations" value="10"/>
        <parameter key="p_initialize" value="0.5"/>
        <parameter key="p_mutation" value="-1.0"/>
        <parameter key="p_crossover" value="0.5"/>
        <parameter key="crossover_type" value="uniform"/>
        <process expanded="true">
          <operator activated="true" class="concurrency:cross_validation" compatibility="9.1.000" expanded="true" height="145" name="Cross Validation" width="90" x="313" y="34">
            <parameter key="split_on_batch_attribute" value="false"/>
            <parameter key="leave_one_out" value="false"/>
            <parameter key="number_of_folds" value="10"/>
            <parameter key="sampling_type" value="automatic"/>
            <parameter key="use_local_random_seed" value="false"/>
            <parameter key="local_random_seed" value="1992"/>
            <parameter key="enable_parallel_execution" value="true"/>
            <process expanded="true">
              <operator activated="true" class="concurrency:parallel_decision_tree" compatibility="9.1.000" expanded="true" height="103" name="Decision Tree" width="90" x="179" y="85">
                <parameter key="criterion" value="gain_ratio"/>
                <parameter key="maximal_depth" value="10"/>
                <parameter key="apply_pruning" value="true"/>
                <parameter key="confidence" value="0.1"/>
                <parameter key="apply_prepruning" value="true"/>
                <parameter key="minimal_gain" value="0.01"/>
                <parameter key="minimal_leaf_size" value="2"/>
                <parameter key="minimal_size_for_split" value="4"/>
                <parameter key="number_of_prepruning_alternatives" value="3"/>
              </operator>
              <connect from_port="training set" to_op="Decision Tree" to_port="training set"/>
              <connect from_op="Decision Tree" from_port="model" to_port="model"/>
              <portSpacing port="source_training set" spacing="0"/>
              <portSpacing port="sink_model" spacing="0"/>
              <portSpacing port="sink_through 1" spacing="0"/>
            </process>
            <process expanded="true">
              <operator activated="true" class="apply_model" compatibility="9.1.000" expanded="true" height="82" name="Apply Model" width="90" x="112" y="34">
                <list key="application_parameters"/>
                <parameter key="create_view" value="false"/>
              </operator>
              <operator activated="true" class="performance_classification" compatibility="9.1.000" expanded="true" height="82" name="Performance" width="90" x="246" y="34">
                <parameter key="main_criterion" value="first"/>
                <parameter key="accuracy" value="true"/>
                <parameter key="classification_error" value="true"/>
                <parameter key="kappa" value="false"/>
                <parameter key="weighted_mean_recall" value="false"/>
                <parameter key="weighted_mean_precision" value="false"/>
                <parameter key="spearman_rho" value="false"/>
                <parameter key="kendall_tau" value="false"/>
                <parameter key="absolute_error" value="false"/>
                <parameter key="relative_error" value="false"/>
                <parameter key="relative_error_lenient" value="false"/>
                <parameter key="relative_error_strict" value="false"/>
                <parameter key="normalized_absolute_error" value="false"/>
                <parameter key="root_mean_squared_error" value="false"/>
                <parameter key="root_relative_squared_error" value="false"/>
                <parameter key="squared_error" value="false"/>
                <parameter key="correlation" value="false"/>
                <parameter key="squared_correlation" value="false"/>
                <parameter key="cross-entropy" value="false"/>
                <parameter key="margin" value="false"/>
                <parameter key="soft_margin_loss" value="false"/>
                <parameter key="logistic_loss" value="false"/>
                <parameter key="skip_undefined_labels" value="true"/>
                <parameter key="use_example_weights" value="true"/>
                <list key="class_weights"/>
              </operator>
              <connect from_port="model" to_op="Apply Model" to_port="model"/>
              <connect from_port="test set" to_op="Apply Model" to_port="unlabelled data"/>
              <connect from_op="Apply Model" from_port="labelled data" to_op="Performance" to_port="labelled data"/>
              <connect from_op="Performance" from_port="performance" to_port="performance 1"/>
              <portSpacing port="source_model" spacing="0"/>
              <portSpacing port="source_test set" spacing="0"/>
              <portSpacing port="source_through 1" spacing="0"/>
              <portSpacing port="sink_test set results" spacing="0"/>
              <portSpacing port="sink_performance 1" spacing="0"/>
              <portSpacing port="sink_performance 2" spacing="0"/>
            </process>
          </operator>
          <connect from_port="example set" to_op="Cross Validation" to_port="example set"/>
          <connect from_op="Cross Validation" from_port="performance 1" to_port="performance"/>
          <portSpacing port="source_example set" spacing="0"/>
          <portSpacing port="source_through 1" spacing="0"/>
          <portSpacing port="sink_performance" spacing="0"/>
        </process>
      </operator>
      <operator activated="true" class="model_simulator:automatic_feature_engineering" compatibility="9.1.000" expanded="true" height="103" name="Automatic Feature Engineering" width="90" x="648" y="289">
        <parameter key="mode" value="feature selection"/>
        <parameter key="balance for accuracy" value="1.0"/>
        <parameter key="show progress dialog" value="false"/>
        <parameter key="use_local_random_seed" value="false"/>
        <parameter key="local_random_seed" value="1992"/>
        <parameter key="use optimization heuristics" value="true"/>
        <parameter key="maximum generations" value="30"/>
        <parameter key="population size" value="10"/>
        <parameter key="use multi-starts" value="true"/>
        <parameter key="number of multi-starts" value="5"/>
        <parameter key="generations until multi-start" value="10"/>
        <parameter key="use time limit" value="false"/>
        <parameter key="time limit in seconds" value="60"/>
        <parameter key="use subset for generation" value="false"/>
        <parameter key="maximum function complexity" value="10"/>
        <parameter key="use_plus" value="false"/>
        <parameter key="use_diff" value="false"/>
        <parameter key="use_mult" value="true"/>
        <parameter key="use_div" value="true"/>
        <parameter key="reciprocal_value" value="true"/>
        <parameter key="use_square_roots" value="false"/>
        <parameter key="use_exp" value="false"/>
        <parameter key="use_log" value="false"/>
        <parameter key="use_absolute_values" value="false"/>
        <parameter key="use_sgn" value="false"/>
        <parameter key="use_min" value="false"/>
        <parameter key="use_max" value="false"/>
        <process expanded="true">
          <operator activated="true" class="concurrency:cross_validation" compatibility="9.1.000" expanded="true" height="145" name="Cross Validation (2)" width="90" x="313" y="85">
            <parameter key="split_on_batch_attribute" value="false"/>
            <parameter key="leave_one_out" value="false"/>
            <parameter key="number_of_folds" value="10"/>
            <parameter key="sampling_type" value="automatic"/>
            <parameter key="use_local_random_seed" value="false"/>
            <parameter key="local_random_seed" value="1992"/>
            <parameter key="enable_parallel_execution" value="true"/>
            <process expanded="true">
              <operator activated="true" class="concurrency:parallel_decision_tree" compatibility="9.1.000" expanded="true" height="103" name="Decision Tree (2)" width="90" x="179" y="85">
                <parameter key="criterion" value="gain_ratio"/>
                <parameter key="maximal_depth" value="10"/>
                <parameter key="apply_pruning" value="true"/>
                <parameter key="confidence" value="0.1"/>
                <parameter key="apply_prepruning" value="true"/>
                <parameter key="minimal_gain" value="0.01"/>
                <parameter key="minimal_leaf_size" value="2"/>
                <parameter key="minimal_size_for_split" value="4"/>
                <parameter key="number_of_prepruning_alternatives" value="3"/>
              </operator>
              <connect from_port="training set" to_op="Decision Tree (2)" to_port="training set"/>
              <connect from_op="Decision Tree (2)" from_port="model" to_port="model"/>
              <portSpacing port="source_training set" spacing="0"/>
              <portSpacing port="sink_model" spacing="0"/>
              <portSpacing port="sink_through 1" spacing="0"/>
            </process>
            <process expanded="true">
              <operator activated="true" class="apply_model" compatibility="9.1.000" expanded="true" height="82" name="Apply Model (2)" width="90" x="112" y="34">
                <list key="application_parameters"/>
                <parameter key="create_view" value="false"/>
              </operator>
              <operator activated="true" class="performance_classification" compatibility="9.1.000" expanded="true" height="82" name="Performance (2)" width="90" x="246" y="34">
                <parameter key="main_criterion" value="first"/>
                <parameter key="accuracy" value="true"/>
                <parameter key="classification_error" value="true"/>
                <parameter key="kappa" value="false"/>
                <parameter key="weighted_mean_recall" value="false"/>
                <parameter key="weighted_mean_precision" value="false"/>
                <parameter key="spearman_rho" value="false"/>
                <parameter key="kendall_tau" value="false"/>
                <parameter key="absolute_error" value="false"/>
                <parameter key="relative_error" value="false"/>
                <parameter key="relative_error_lenient" value="false"/>
                <parameter key="relative_error_strict" value="false"/>
                <parameter key="normalized_absolute_error" value="false"/>
                <parameter key="root_mean_squared_error" value="false"/>
                <parameter key="root_relative_squared_error" value="false"/>
                <parameter key="squared_error" value="false"/>
                <parameter key="correlation" value="false"/>
                <parameter key="squared_correlation" value="false"/>
                <parameter key="cross-entropy" value="false"/>
                <parameter key="margin" value="false"/>
                <parameter key="soft_margin_loss" value="false"/>
                <parameter key="logistic_loss" value="false"/>
                <parameter key="skip_undefined_labels" value="true"/>
                <parameter key="use_example_weights" value="true"/>
                <list key="class_weights"/>
              </operator>
              <connect from_port="model" to_op="Apply Model (2)" to_port="model"/>
              <connect from_port="test set" to_op="Apply Model (2)" to_port="unlabelled data"/>
              <connect from_op="Apply Model (2)" from_port="labelled data" to_op="Performance (2)" to_port="labelled data"/>
              <connect from_op="Performance (2)" from_port="performance" to_port="performance 1"/>
              <portSpacing port="source_model" spacing="0"/>
              <portSpacing port="source_test set" spacing="0"/>
              <portSpacing port="source_through 1" spacing="0"/>
              <portSpacing port="sink_test set results" spacing="0"/>
              <portSpacing port="sink_performance 1" spacing="0"/>
              <portSpacing port="sink_performance 2" spacing="0"/>
            </process>
          </operator>
          <operator activated="true" class="remember" compatibility="9.1.000" expanded="true" height="68" name="Remember" width="90" x="447" y="136">
            <parameter key="name" value="performance"/>
            <parameter key="io_object" value="PerformanceVector"/>
            <parameter key="store_which" value="1"/>
            <parameter key="remove_from_process" value="true"/>
          </operator>
          <connect from_port="example set source" to_op="Cross Validation (2)" to_port="example set"/>
          <connect from_op="Cross Validation (2)" from_port="performance 1" to_op="Remember" to_port="store"/>
          <connect from_op="Remember" from_port="stored" to_port="performance sink"/>
          <portSpacing port="source_example set source" spacing="0"/>
          <portSpacing port="sink_performance sink" spacing="0"/>
        </process>
      </operator>
      <operator activated="true" class="recall" compatibility="9.1.000" expanded="true" height="68" name="Recall" width="90" x="849" y="340">
        <parameter key="name" value="performance"/>
        <parameter key="io_object" value="PerformanceVector"/>
        <parameter key="remove_from_store" value="true"/>
      </operator>
      <connect from_op="Retrieve Titanic" from_port="output" to_op="Select Attributes" to_port="example set input"/>
      <connect from_op="Select Attributes" from_port="example set output" to_op="Set Role" to_port="example set input"/>
      <connect from_op="Set Role" from_port="example set output" to_op="Multiply" to_port="input"/>
      <connect from_op="Multiply" from_port="output 1" to_op="Optimize Selection (Evolutionary)" to_port="example set in"/>
      <connect from_op="Multiply" from_port="output 2" to_op="Automatic Feature Engineering" to_port="example set in"/>
      <connect from_op="Optimize Selection (Evolutionary)" from_port="weights" to_port="result 2"/>
      <connect from_op="Optimize Selection (Evolutionary)" from_port="performance" to_port="result 1"/>
      <connect from_op="Automatic Feature Engineering" from_port="feature set" to_port="result 3"/>
      <connect from_op="Recall" from_port="result" to_port="result 4"/>
      <portSpacing port="source_input 1" spacing="0"/>
      <portSpacing port="sink_result 1" spacing="0"/>
      <portSpacing port="sink_result 2" spacing="0"/>
      <portSpacing port="sink_result 3" spacing="0"/>
      <portSpacing port="sink_result 4" spacing="0"/>
      <portSpacing port="sink_result 5" spacing="0"/>
    </process>
  </operator>
</process>

Tagged: