"SVM: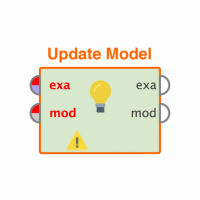 spitfire_ch
Member
Posts: 38
Guru
hi,
sorry for bombarding you with posts currently. I guess it's a symptom of the learning phase.
Anyway, when fiddling around with support vector machines, I often run into the problem, that its keeps iterating forever (or at least for many hours) without getting any further. This is only the case for certain kernel types, other complete the analysis within minutes. I think this because they (the slow ones) don't manage to converge. What is the right thing to do in such a situation?  I can think of two adjustments:
Using a higher convergence epsilon
Decreasing max iterations
Is that correct? Or would I have to fiddle with epsilon rather than with convergence epsilon? Are there any recommended values I should use if I want to compare different kernel types with a optimize parameters operator? So far I run into the problem, that most types do ok, but one will eventually be caught in a loop. I can only hit stop then and all the gathered performance information of the other kernel types is lost.
Maybe this would also be ideas to implement: A "stop sub process button" in addition to the "stop everything button". This would only exit the current operation (eg. the validation of the current kernel type) and move on. The best parameters of the operations that were not canceled will be chosen.
Thanks for your advise
Hanspeter
Tagged: