🥳 RAPIDMINER 9.9 IS OUT!!! 🥳
The updates in 9.9 power advanced use cases and offer productivity enhancements for users who prefer to code.
moving an operator into another operator loses its internal operators' positions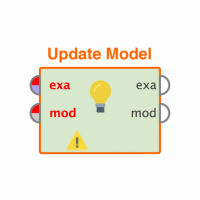 tennenrishin
Member
Posts: 177
&nbsp

Maven
edited November 2018
in Help
Hi all

Cutting and pasting an operator that contains internal operators apparently causes the internal operators to assume new random positions on the design canvas. This means that after a cut&paste operation, I have to recursively navigate through all of that operator's internal operators and drag them to their correct position again.

Until now this was just an annoyance, but now I have to perform an edit that will render about 350 internal operators tangled, so I'm asking for help first. Is there any other way to move an operator into another, without causing this problem?

Thanks in advance for any help.
Isak

PS: Idea: Perhaps by editing the xml file? Looking into it...