Missing Operator Parameters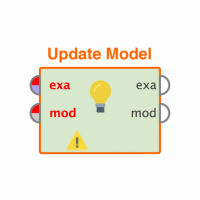 rm_user2012
Member
Posts: 4
Contributor I
edited November 2018
in Help
Hi,
I am facing a problem with declaring the parameters in the operators. I tried adding the parameters as per instructed by the guide but when I select the operator in Rapidminer,
only 4 out of the 6 parameters declared appears. The first two parameters has been ignored and not reflected in Rapidminer GUI. However, when I change the order when adding the parameters,
the boolean parameters appear but still only a max of 4 out 6 parameters are displayed.
Can anyone help me with this problem?
Thanks!
The codes to declare and add the parameters are shown below:

@Override
	public List<ParameterType> getParameterTypes() {
		List<ParameterType> types = super.getParameterTypes();

		ParameterType type0 = new ParameterTypeBoolean(PARAMETER_AMPLIFY_POSITIVE, amplify_desc, true,false);

		ParameterType type1= new ParameterTypeBoolean(PARAMETER_REDUCE_NEGATIVE, reduceNeg_desc, true,false);

		ParameterType type2 = new ParameterTypeChar(PARAMETER_POSITIVE_LABEL, posLbl_desc,'P',false);

		ParameterType type3 = new ParameterTypeDouble(PARAMETER_POSITIVE_GAUSSIAN_REMOVE_THRESHOLD, posGausRemovThres_desc, 0,1,0.95,false);

		ParameterType type4 = new ParameterTypeDouble(PARAMETER_NEGATIVE_GAUSSIAN_REMOVE_THRESHOLD, negGausRemovThres, 0, 1, 0.95,false);

		ParameterType type5 = new ParameterTypeDouble(PARAMETER_MTD_MEMBERSHIP_REMOVE_THRESHOLD, mtdAmpThres_desc,0, 1, 0.9,false);

		types.add(type0);
		types.add(type1);
		types.add(type2);
		types.add(type3);
		types.add(type4);
		types.add(type5);

		return types;
	}

Tagged: