[SOLVED] Binomial test on examples whose attributes specify the parameters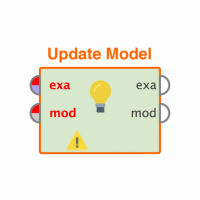 tennenrishin
Member
Posts: 177
Maven
edited November 2018
in Help
Pardon me if this is a silly question.
Suppose I have an ExampleSet with two attributes, eg:
TC   SC
005  3
010  7
150  83
etc...
...where TC is the (Bernoulli) "Trial Count" and SC is the "Success Count", and the probability of success at each trial is 0.5. I would like to perform the
binomial test
on each example. In other words, I would like to generate a new attribute SS (Statistical Significance) indicating (for each example) the probability that TC trials will result in at least SC successes. How should I approach this?
I can't see how I could construct the
cumulative binomial distribution
from the functions available in the Generate Attributes operator, except perhaps if TC is small, and using loops. I'm going to look into how much Hoeffding's inequality and Chernoff's inequality can help, but am I overlooking any simpler way of doing this? Perhaps some statistical tests already implemented in one of the RM extensions?
Thanks in advance.