[SOLVED] Cannot access RA from RM desktop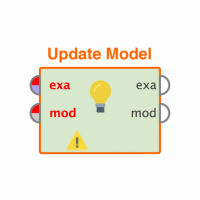 needexpert
Member
Posts: 2
Contributor I
edited November 2018
in Help
Hello,
  We are in the process of evaluating RM/RA as potential solution for our data mining needs.  I've set up RM locally and two instances of RA, 1 on a emazon EC2 instance.
and 1 locally on a mac
   On my local version of RA everything works as intended when interfacing between RA and RM.    
   I run into an issue when attempting to access RA within the amazon instance. When trying to connect via RM -> RA I get the error message. "operation timed out".
If I try to use the .gnlp file to connect RA -> RM - I get an error stating "Unable to launch application".   I've pasted the results of the "More Information window below"
Hopefully someone has experience this before and found a solution.
    I apologize if this question redundant. I've been taking advantage of the forum when setting up my tests but could not find the answer for this problem.
thanks in advance

<?xml version="1.0" encoding="UTF-8"?>
<jnlp spec="1.0+" codebase="http://23.21.177.130:8080/webstart/" href="http://23.21.177.130:8080/RAWS/rapidminer.jnlp">
	<information>
		<title>RapidMiner 5.2</title>
		<vendor>Rapid-I</vendor>
		<icon href="rapidminer_icon.png" kind="default" />
		<icon href="splashscreen_community.png" kind="splash" />
		<shortcut online="true">
			<desktop />
			<menu submenu="Rapid-I" />
		</shortcut>
		<homepage>http://www.rapidminer.com</homepage&gt;
		<offline-allowed />
		<association mime-type="application-x/x-rapidminer"
			extensions="rmp" />
	</information>

	<security>
		<all-permissions />
	</security>

	<resources>
		<!-- Application Resources -->
		<j2se version="1.6+" href="http://java.sun.com/products/autodl/j2se" initial-heap-size="1000m" max-heap-size="1000m"/>

        <jar href="rapidminer.jar" main="true"/>
        <jar href="launcher.jar" main="false"/>

        <!-- jar href="bcmail.jar" main="false"/ -->
        <!-- jar href="bcprov.jar" main="false"/ -->
        <jar href="SassyReader-0.5.jar" main="false"/>
        <jar href="blas.jar" main="false"/>
        <jar href="collections-generic.jar" main="false"/>
        <jar href="colt.jar" main="false"/>
        <jar href="commons-codec-1.4.jar" main="false"/>
        <jar href="commons-collections.jar" main="false"/>
        <jar href="commons-httpclient-3.1.jar" main="false"/>
        <jar href="commons-lang-2.4.jar" main="false"/>
        <jar href="commons-logging-1.1.jar" main="false"/>
        <jar href="concurrent.jar" main="false"/>
        <jar href="encog.jar" main="false"/>
        <jar href="freehep-export.jar" main="false"/>
        <jar href="freehep-graphics2d.jar" main="false"/>
        <jar href="freehep-graphicsio-emf.jar" main="false"/>
        <jar href="freehep-graphicsio.jar" main="false"/>
        <jar href="freehep-graphicsio-pdf.jar" main="false"/>
        <jar href="freehep-graphicsio-ps.jar" main="false"/>
        <jar href="freehep-graphicsio-svg.jar" main="false"/>
        <jar href="freehep-graphicsio-swf.jar" main="false"/>
        <jar href="freehep-io.jar" main="false"/>
        <jar href="freehep-swing.jar" main="false"/>
        <jar href="freehep-util.jar" main="false"/>
        <jar href="freehep-xml.jar" main="false"/>
        <!-- jar href="gentlyWEB.jar" main="false"/ -->
        <!-- jar href="glazedlists.jar" main="false"/ -->
        <jar href="groovy-all-1.7.7.jar" main="false"/>
        <jar href="ivy-2.2.0.jar" main="false"/>
        <jar href="jama.jar" main="false"/>
        <jar href="jcommon.jar" main="false"/>
        <!-- jar href="jdom.jar" main="false"/ -->
        <jar href="jep.jar" main="false"/>
        <jar href="jfreechart.jar" main="false"/>
        <!-- jar href="jh.jar" main="false"/ -->
        <jar href="jmathplot.jar" main="false"/>
        <jar href="joone-engine.jar" main="false"/>
        <jar href="jugpreview.jar" main="false"/>
        <jar href="jung-algorithms.jar" main="false"/>
        <jar href="jung-api.jar" main="false"/>
        <jar href="jung-graph-impl.jar" main="false"/>
        <jar href="jung-visualization.jar" main="false"/>
        <!-- jar href="jwnl.jar" main="false"/ -->
        <jar href="jxl.jar" main="false"/>
        <jar href="kdb.jar" main="false"/>
        <jar href="looks.jar" main="false"/>
        <jar href="mail.jar" main="false"/>
        <jar href="microba.jar" main="false"/>
        <!-- jar href="rome.jar" main="false"/ -->
        <jar href="rsyntaxtextarea.jar" main="false"/>
        <jar href="vldocking.jar" main="false"/>
        <jar href="ws-commons-util-1.0.2.jar" main="false"/>
        <jar href="xmlrpc-client-3.1.3.jar" main="false"/>
        <jar href="xmlrpc-common-3.1.3.jar" main="false"/>
        <jar href="xpp3.jar" main="false"/>
        <jar href="xstream.jar" main="false"/>
        
		<property name="rapidminer.homerepository.url" value="http://23.21.177.130:8080" />
		<property name="rapidminer.homerepository.user" value="admin" />
	</resources>

	<application-desc name="RapidMiner 5.2"
		main-class="com.rapidminer.gui.RapidMinerGUI" width="800" height="600">

	</application-desc>

	<update check="background" />
</jnlp>









java.lang.reflect.InvocationTargetException
	at sun.reflect.NativeMethodAccessorImpl.invoke0(Native Method)
	at sun.reflect.NativeMethodAccessorImpl.invoke(NativeMethodAccessorImpl.java:39)
	at sun.reflect.DelegatingMethodAccessorImpl.invoke(DelegatingMethodAccessorImpl.java:25)
	at java.lang.reflect.Method.invoke(Method.java:597)
	at com.sun.javaws.Launcher.executeApplication(Launcher.java:1919)
	at com.sun.javaws.Launcher.executeMainClass(Launcher.java:1852)
	at com.sun.javaws.Launcher.doLaunchApp(Launcher.java:1614)
	at com.sun.javaws.Launcher.run(Launcher.java:139)
	at java.lang.Thread.run(Thread.java:680)
Caused by: java.lang.NoClassDefFoundError: junit/framework/Assert
	at java.lang.ClassLoader.defineClass1(Native Method)
	at java.lang.ClassLoader.defineClassCond(ClassLoader.java:631)
	at java.lang.ClassLoader.defineClass(ClassLoader.java:615)
	at java.security.SecureClassLoader.defineClass(SecureClassLoader.java:141)
	at java.net.URLClassLoader.defineClass(URLClassLoader.java:283)
	at java.net.URLClassLoader.access$000(URLClassLoader.java:58)
	at java.net.URLClassLoader$1.run(URLClassLoader.java:197)
	at java.security.AccessController.doPrivileged(Native Method)
	at java.net.URLClassLoader.findClass(URLClassLoader.java:190)
	at com.sun.jnlp.JNLPClassLoader.findClass(JNLPClassLoader.java:345)
	at java.lang.ClassLoader.loadClass(ClassLoader.java:306)
	at java.lang.ClassLoader.loadClass(ClassLoader.java:247)
	at com.rapidminer.RapidMiner.init(RapidMiner.java:551)
	at com.rapidminer.gui.RapidMinerGUI.run(RapidMinerGUI.java:218)
	at com.rapidminer.gui.RapidMinerGUI.launch(RapidMinerGUI.java:523)
	at com.rapidminer.gui.RapidMinerGUI.main(RapidMinerGUI.java:505)
	... 9 more
Caused by: java.lang.ClassNotFoundException: junit.framework.Assert
	at java.net.URLClassLoader$1.run(URLClassLoader.java:202)
	at java.security.AccessController.doPrivileged(Native Method)
	at java.net.URLClassLoader.findClass(URLClassLoader.java:190)
	at com.sun.jnlp.JNLPClassLoader.findClass(JNLPClassLoader.java:345)
	at java.lang.ClassLoader.loadClass(ClassLoader.java:306)
	at java.lang.ClassLoader.loadClass(ClassLoader.java:247)
	... 25 more