[SOLVED] TextAnnotator - Create new label - Finish tagging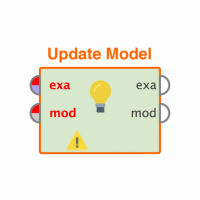 CharlieFirpo
Member
Posts: 48
Contributor II
edited November 2018
in Help
Dear all!

A have a sample training exercise: retrieve a formerly created exampleset and manually annotate persons, locations, organizations in the text of the source document. The exampleset has a "word" attribute that contains the words of the source document (using SentenceTokenizer and Wordokenizer).
Now I "Generate Empty Attribute" to store the labels in it (PER, LOC,...). Then I have a "Loop Examples" operator to iterate "Set Data" operator in it. In "Set Data" I use the "label" attribute name and the "O" value. It sets the label attribute to "O" for all examples (rows), so for all words of the original document. After "Lop examples" there is the "TextAnnotator" operator where the text-attribute is "word", the label-attribute is "label". I run the process and see that in the ExampleSet result, all word has the "O" label value. It is OK. Then I switch to TextAnnotator to see its result. I find only one label: "O" with white color, and all the text (of the document) is white backgrounded. It's OK. And there is the option on that page to "Create new Label" and to "Finish tagging". I'm able to create new labels ("PER", "LOC", "ORG"), but how can I set manually which word (of the text) is a person or a location or an organization???

I create eg. the "PER" label writing "PER" to "labelName" field then click on Create new Label button. Then I double click on a string (a name of a person) in the text then I click on Finish tagging. But nothing happes. The selected string still has white background..

Can anybody help me?

Thank you!!!!