Prediction(Label) Result Clarification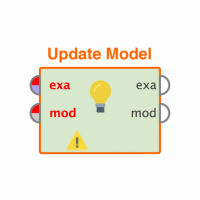 tomolafsson
Member
Posts: 1
Contributor I
edited November 2018
in Help
I have what I think is a relatively simple question that I can not find the answer to regarding Forecasting Performance.
I am predicting interactions we will have with our customers using previous case data as well as a number of attributes that will trigger a case.
My model seems good using Forecasting Performance, Windowing, etc.....
Here is my question.  If my label data is 157 for July 30 and my Prediction(Label) for July 30  is 178, is 178 actually the prediction for the following day (July 31) or Rapidminer's prediction for July 30?
This is covered in neuralmarkettrends video #10 but is not fully clear to me.  Thanks,  Tom

[shadow=red,left]<?xml version="1.0" encoding="UTF-8" standalone="no"?>
<process version="5.3.008">
  <context>
    <input/>
    <output/>
    <macros/>
  </context>
  <operator activated="true" class="process" compatibility="5.3.008" expanded="true" name="Process">
    <process expanded="true">
      <operator activated="true" class="read_excel" compatibility="5.3.008" expanded="true" height="60" name="Read Excel" width="90" x="45" y="30">
        <parameter key="excel_file" value="C:\Users\tom.olafsson\Documents\ECW Docs\Quality Control\RapidMiner\2013 Trigger Data_new Offset.xlsx"/>
        <list key="annotations"/>
        <parameter key="date_format" value="yyyy.MM.dd G 'at' HH:mm:ss z"/>
        <list key="data_set_meta_data_information"/>
      </operator>
      <operator activated="true" class="set_role" compatibility="5.3.008" expanded="true" height="76" name="Set Role" width="90" x="179" y="30">
        <parameter key="attribute_name" value="Date"/>
        <parameter key="target_role" value="id"/>
        <list key="set_additional_roles">
          <parameter key="Count" value="label"/>
          <parameter key="ClientGoLive" value="regular"/>
          <parameter key="DigitalFaxUpgrade" value="regular"/>
          <parameter key="MoveToCloud" value="regular"/>
          <parameter key="ODA - Devices" value="regular"/>
          <parameter key="ODA - eClinicalMessenger" value="regular"/>
          <parameter key="ODA - eClinicalMobile" value="regular"/>
          <parameter key="ODA - eClinicalTouch" value="regular"/>
          <parameter key="ODA - eClinicalWorks P2P" value="regular"/>
          <parameter key="ODA - eRX" value="regular"/>
          <parameter key="ODA - Kiosk" value="regular"/>
          <parameter key="ODA - Nimbus" value="regular"/>
          <parameter key="ODA - Patient Portal" value="regular"/>
          <parameter key="ODA - PatientSurvey" value="regular"/>
          <parameter key="ODA - Scribe" value="regular"/>
          <parameter key="VersionUpgrade" value="regular"/>
          <parameter key="Date" value="id"/>
        </list>
      </operator>
      <operator activated="true" class="series:windowing" compatibility="5.3.000" expanded="true" height="76" name="Windowing" width="90" x="313" y="30">
        <parameter key="window_size" value="1"/>
        <parameter key="create_label" value="true"/>
        <parameter key="label_attribute" value="Count"/>
      </operator>
      <operator activated="true" class="series:sliding_window_validation" compatibility="5.3.000" expanded="true" height="112" name="Validation" width="90" x="447" y="30">
        <parameter key="training_window_width" value="20"/>
        <parameter key="test_window_width" value="10"/>
        <process expanded="true">
          <operator activated="true" class="linear_regression" compatibility="5.3.008" expanded="true" height="94" name="Linear Regression" width="90" x="112" y="75"/>
          <connect from_port="training" to_op="Linear Regression" to_port="training set"/>
          <connect from_op="Linear Regression" from_port="model" to_port="model"/>
          <portSpacing port="source_training" spacing="0"/>
          <portSpacing port="sink_model" spacing="0"/>
          <portSpacing port="sink_through 1" spacing="0"/>
        </process>
        <process expanded="true">
          <operator activated="true" class="apply_model" compatibility="5.3.008" expanded="true" height="76" name="Apply Model" width="90" x="45" y="30">
            <list key="application_parameters"/>
          </operator>
          <operator activated="true" class="series:forecasting_performance" compatibility="5.3.000" expanded="true" height="76" name="Performance (2)" width="90" x="179" y="30">
            <parameter key="horizon" value="1"/>
          </operator>
          <connect from_port="model" to_op="Apply Model" to_port="model"/>
          <connect from_port="test set" to_op="Apply Model" to_port="unlabelled data"/>
          <connect from_op="Apply Model" from_port="labelled data" to_op="Performance (2)" to_port="labelled data"/>
          <connect from_op="Performance (2)" from_port="performance" to_port="averagable 1"/>
          <portSpacing port="source_model" spacing="0"/>
          <portSpacing port="source_test set" spacing="0"/>
          <portSpacing port="source_through 1" spacing="0"/>
          <portSpacing port="sink_averagable 1" spacing="0"/>
          <portSpacing port="sink_averagable 2" spacing="0"/>
        </process>
      </operator>
      <operator activated="true" class="read_excel" compatibility="5.3.008" expanded="true" height="60" name="Read Excel (2)" width="90" x="45" y="120">
        <parameter key="excel_file" value="C:\Users\tom.olafsson\Documents\ECW Docs\Quality Control\RapidMiner\2013 Trigger Data_new Offset.xlsx"/>
        <parameter key="sheet_number" value="2"/>
        <list key="annotations"/>
        <list key="data_set_meta_data_information"/>
      </operator>
      <operator activated="true" class="set_role" compatibility="5.3.008" expanded="true" height="76" name="Set Role (2)" width="90" x="179" y="120">
        <parameter key="attribute_name" value="Date"/>
        <parameter key="target_role" value="id"/>
        <list key="set_additional_roles">
          <parameter key="Count" value="label"/>
          <parameter key="ClientGoLive" value="regular"/>
          <parameter key="DigitalFaxUpgrade" value="regular"/>
          <parameter key="MoveToCloud" value="regular"/>
          <parameter key="ODA - Devices" value="regular"/>
          <parameter key="ODA - eClinicalMessenger" value="regular"/>
          <parameter key="ODA - eClinicalMobile" value="regular"/>
          <parameter key="ODA - eClinicalTouch" value="regular"/>
          <parameter key="ODA - eClinicalWorks P2P" value="regular"/>
          <parameter key="ODA - eRX" value="regular"/>
          <parameter key="ODA - Kiosk" value="regular"/>
          <parameter key="ODA - Nimbus" value="regular"/>
          <parameter key="ODA - Patient Portal" value="regular"/>
          <parameter key="ODA - PatientSurvey" value="regular"/>
          <parameter key="ODA - Scribe" value="regular"/>
          <parameter key="VersionUpgrade" value="regular"/>
          <parameter key="Date" value="id"/>
        </list>
      </operator>
      <operator activated="true" class="series:windowing" compatibility="5.3.000" expanded="true" height="76" name="Windowing (2)" width="90" x="313" y="120">
        <parameter key="window_size" value="5"/>
        <parameter key="create_label" value="true"/>
        <parameter key="label_attribute" value="Count"/>
        <parameter key="horizon" value="0"/>
      </operator>
      <operator activated="true" class="apply_model" compatibility="5.3.008" expanded="true" height="76" name="Apply Model (2)" width="90" x="514" y="210">
        <list key="application_parameters"/>
      </operator>
      <connect from_op="Read Excel" from_port="output" to_op="Set Role" to_port="example set input"/>
      <connect from_op="Set Role" from_port="example set output" to_op="Windowing" to_port="example set input"/>
      <connect from_op="Windowing" from_port="example set output" to_op="Validation" to_port="training"/>
      <connect from_op="Validation" from_port="model" to_op="Apply Model (2)" to_port="model"/>
      <connect from_op="Validation" from_port="training" to_port="result 1"/>
      <connect from_op="Read Excel (2)" from_port="output" to_op="Set Role (2)" to_port="example set input"/>
      <connect from_op="Set Role (2)" from_port="example set output" to_op="Windowing (2)" to_port="example set input"/>
      <connect from_op="Windowing (2)" from_port="example set output" to_op="Apply Model (2)" to_port="unlabelled data"/>
      <connect from_op="Apply Model (2)" from_port="labelled data" to_port="result 2"/>
      <connect from_op="Apply Model (2)" from_port="model" to_port="result 3"/>
      <portSpacing port="source_input 1" spacing="0"/>
      <portSpacing port="sink_result 1" spacing="0"/>
      <portSpacing port="sink_result 2" spacing="0"/>
      <portSpacing port="sink_result 3" spacing="0"/>
      <portSpacing port="sink_result 4" spacing="0"/>
    </process>
  </operator>
</process>[/shadow][
/code]