Hybrid Recommender System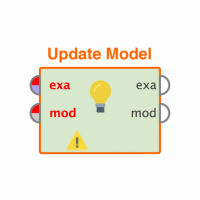 Legacy User
Member
Posts: 0
Newbie
edited November 2018
in Help
Hello guys,
i am trying to create a hybrid recommender system.
For the collaborative part i am using the user-item matrix that has rating.
For the content absed part I am going to use attributes related to the items.  With the content based part I will create a pseudo rating matrix.
And then apply item K-nn.
My question is if the attribute based item recommendation combined with  and item k-nn(so again user-item matrix) does the same or not. I assume not, but that it combines the recommendations linearly. I have also downlodaed the hybrid example from the RM book, but I always get an OutOfMemoryException on the Attribute-based operator and therefore cannot really see the outcome of this operator.
Here is the Exception:
SEVERE: Process failed: Java heap space
java.lang.OutOfMemoryError: Java heap space
	at com.rapidminer.data.Matrix_f.<init>(Matrix_f.java:69)
	at com.rapidminer.data.CorrelationMatrix.<init>(CorrelationMatrix.java:52)
	at com.rapidminer.data.BinaryDataCorrelationMatrix.<init>(BinaryDataCorrelationMatrix.java:17)
	at com.rapidminer.data.BinaryCosine.<init>(BinaryCosine.java:24)
	at com.rapidminer.data.BinaryCosine.Create(BinaryCosine.java:104)
	at com.rapidminer.ItemRecommendation.ItemAttributeKnn.Train(ItemAttributeKnn.java:50)
	at com.rapidminer.ItemRecommendation.ItemAttributeKnnO.doWork(ItemAttributeKnnO.java:162)
	at com.rapidminer.operator.Operator.execute(Operator.java:866)
	at com.rapidminer.operator.execution.SimpleUnitExecutor.execute(SimpleUnitExecutor.java:51)
	at com.rapidminer.operator.ExecutionUnit.execute(ExecutionUnit.java:711)
	at com.rapidminer.operator.OperatorChain.doWork(OperatorChain.java:375)
	at com.rapidminer.operator.Operator.execute(Operator.java:866)
	at com.rapidminer.Process.run(Process.java:949)
	at com.rapidminer.Process.run(Process.java:873)
	at com.rapidminer.Process.run(Process.java:832)
	at com.rapidminer.Process.run(Process.java:827)
	at com.rapidminer.Process.run(Process.java:817)
	at com.rapidminer.gui.ProcessThread.run(ProcessThread.java:63)