RAPIDMINER 9.7 BETA ANNOUNCEMENT
The beta program for the RapidMiner 9.7 release is now available. Lots of amazing new improvements including true version control!
A bug in normalize operator and in bugzilla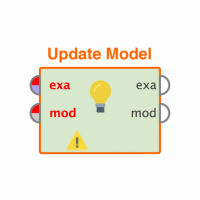 marcin_blachnik
Member
Posts: 56
&nbsp

Maven
edited November 2018
in Help
First bug is related to Bugzilla, when I've try to file a bug a receive following error:
Software error:

Cannot determine local time zone
For help, please send mail to the webmaster ([email protected]), giving this error message and the time and date of the error.
So I decided to submit it here, as it looks like an important bug. It is related to normalize operator and independence of its output ports.
The process below shows the problem. The process simply loads the data and performs normalization. As a result only data received from res0 should be normalized, and the data received from res1 should contain the original data, but in fact both outputs are normalized. The funny thing is that when I connect "ori" output port to the process output everything works fine.
The process:

<?xml version="1.0" encoding="UTF-8" standalone="no"?>
<process version="7.0.001">
  <context>
    <input/>
    <output/>
    <macros/>
  </context>
  <operator activated="true" class="process" compatibility="7.0.001" expanded="true" name="Process">
    <process expanded="true">
      <operator activated="true" class="retrieve" compatibility="7.0.001" expanded="true" height="68" name="Retrieve Iris" width="90" x="53" y="202">
        <parameter key="repository_entry" value="//Samples/data/Iris"/>
      </operator>
      <operator activated="true" class="multiply" compatibility="7.0.001" expanded="true" height="103" name="Multiply" width="90" x="199" y="197"/>
      <operator activated="true" class="normalize" compatibility="7.0.001" expanded="true" height="103" name="Normalize" width="90" x="351" y="34">
        <parameter key="method" value="range transformation"/>
      </operator>
      <connect from_op="Retrieve Iris" from_port="output" to_op="Multiply" to_port="input"/>
      <connect from_op="Multiply" from_port="output 1" to_op="Normalize" to_port="example set input"/>
      <connect from_op="Multiply" from_port="output 2" to_port="result 2"/>
      <connect from_op="Normalize" from_port="example set output" to_port="result 1"/>
      <portSpacing port="source_input 1" spacing="0"/>
      <portSpacing port="sink_result 1" spacing="0"/>
      <portSpacing port="sink_result 2" spacing="0"/>
      <portSpacing port="sink_result 3" spacing="0"/>
    </process>
  </operator>
</process>

Best
Marcin
Tagged: