[SOLVED] normailze rows and columns by the same ratio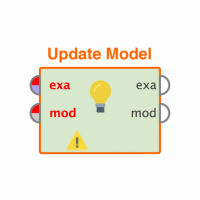 DerGaertner
Member
Posts: 3
Contributor I
edited November 2018
in Help
Hello,
i want to normalze my table (range transforamtion), but there are different zero values. Before transformation there are only zeros in the first row, after tranformation i realized that there are values like:
0.030 ; 0.028 ; 0.031
Of course there are some negative values in the source table and so the zero isnt the zero anymore. I want that for each row and each column the value transformation is bijective.
Im able to write some groovy script to fix this, but i hope there is another way to do this.
Thanks for help!
edit:
Maybe this example demonstrate my problem.

<?xml version="1.0" encoding="UTF-8" standalone="no"?>
<process version="5.3.013">
  <context>
    <input/>
    <output/>
    <macros/>
  </context>
  <operator activated="true" class="process" compatibility="5.3.013" expanded="true" name="Process">
    <process expanded="true">
      <operator activated="true" class="generate_data" compatibility="5.3.013" expanded="true" height="60" name="Generate Data" width="90" x="112" y="75"/>
      <operator activated="true" class="execute_script" compatibility="5.3.013" expanded="true" height="76" name="Execute Script" width="90" x="246" y="75">
        <parameter key="script" value="ExampleSet exampleSet = input[0];&#10;Attributes attributes = exampleSet.getAttributes();&#10;&#10;&#10;int count = 0;&#10;&#10;Attribute att1 = attributes.get(&quot;att1&quot;);&#10;Attribute att2 = attributes.get(&quot;att2&quot;);&#10;Attribute att3 = attributes.get(&quot;att3&quot;);&#10;Attribute att4 = attributes.get(&quot;att4&quot;);&#10;Attribute att5 = attributes.get(&quot;att5&quot;);&#10;&#10;exampleSet.getExample(0).setValue(att1, count);&#10;exampleSet.getExample(0).setValue(att2, count);&#10;exampleSet.getExample(0).setValue(att3, count);&#10;exampleSet.getExample(0).setValue(att4, count);&#10;exampleSet.getExample(0).setValue(att5, count);&#10;&#10;&#10;return exampleSet;"/>
      </operator>
      <operator activated="true" breakpoints="before" class="normalize" compatibility="5.3.013" expanded="true" height="94" name="Normalize" width="90" x="380" y="75">
        <parameter key="method" value="range transformation"/>
      </operator>
      <connect from_op="Generate Data" from_port="output" to_op="Execute Script" to_port="input 1"/>
      <connect from_op="Execute Script" from_port="output 1" to_op="Normalize" to_port="example set input"/>
      <connect from_op="Normalize" from_port="example set output" to_port="result 1"/>
      <portSpacing port="source_input 1" spacing="0"/>
      <portSpacing port="sink_result 1" spacing="0"/>
      <portSpacing port="sink_result 2" spacing="0"/>
    </process>
  </operator>
</process>