Designing a process to be used as a web service with parameters?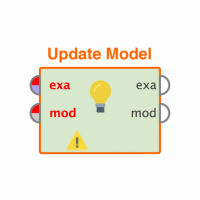 brandon_harris
Member
Posts: 4
Contributor I
edited November 2018
in Help
I was able to build a basic process, save it to the server, and run it as a web service (static data read in, model trained, scored results from the model are displayed). I'm thoroughly lost as to how I accept new data via url paramters for this service though. I've read through the KB on passing parameters to a service, but I think I'm missing the part in designing the process where I allow for new data (via these paramters).
Including a screenshot of the process I've built and deployed as a service on the RM server. The model takes a single variable at this time since I was testing this out. Let's call my variable / parameter "AGE". I understand that I define my url query paramter name (age) and bind it to a target macro or operator parameter. What operator do I need to include in my process so that I can bind my "age" url query parameter to it, so that I can pass new "age" values to my model and have the web service return a result from the model? I attempted to use the macro operator and pass that as my unlabeled exampleset to the 'apply model' operator, but that didnt' work.
To step back for a minute and look at the bigger picture, all I'm trying to do is train a model, and then publish that model as an API so that I can pass new data (in this case, the single age variable) to it, and have it return a scored / predicted result.
 On a separate note, the KB article "Passing parameters to Rapidminer Webservices" references a sample / tutorial project whice seems to answer my question, but I cannot find it on either the server or the local studio install. The tutorial process it uses to walk through this process can be seen in this image, though again I cannot find this tutorial or file location. - /t5/image/serverpage/image-id/114iADE1A705E2AC1534/image-size/large?v=v2&px=999