RapidMiner 9.7 is Now Available
Lots of amazing new improvements including true version control! Learn more about what's new here.
Prediction Analysis of Equipment Sales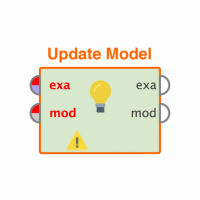 draina1481
Member
Posts: 4
Contributor I
edited November 2018
in Help
Hello! I want to predict the sales of Indian construction equipments such as Cranes and Compactors. I used the windowing operator and sliding window validation for my prediction. I got the accuracy 59%. My mentor suggessted i read another excel file having unknown values, this file will be conected to another windowing operator and then connected to the Apply model Operator along with the first one. However, after doing so, i am not getting any values in my Example Set in Results. No error or warning is shown yet am not getting the desired values. Please somebody guide me on this? Where am i going wrong? Have attached the screen shot of my model.
My Model
My example set