Cannot store Model into Server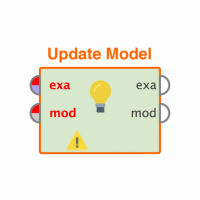 micheljanos
Member
Posts: 40
Maven
edited November 2018
in Help
Hi,
I'm running a Sentiment Analysis process and when a try to store the model (running in the server) I get the following error.
I have also enclosed the log file for the error.
I sucessfully  saved the model in the local repository, but when I try to copy/paste into the Server folder I get the same 500 error.
Regards
Michel
log file
 Jun 2, 2017 11:25:01 AM INFO: Loading initial data.

Jun 2, 2017 11:25:01 AM INFO: Assigning //SERVER/apps/Sentiment_tutorial/Historical Sentiments1 to input port Process.input 1.

Jun 2, 2017 11:25:02 AM INFO: Process //SERVER/apps/Sentiment_tutorial/Sentiment_tutorial starts

Jun 2, 2017 11:25:11 AM SEVERE: Process failed: Cannot store data in repository at entry 'Model1'. Reason: Cannot upload object: 500: Internal Server Error.

Jun 2, 2017 11:25:11 AM SEVERE: Here:

Jun 2, 2017 11:25:11 AM SEVERE: Process[1] (Process)

Jun 2, 2017 11:25:11 AM SEVERE: subprocess 'Main Process'

Jun 2, 2017 11:25:11 AM SEVERE: +- Set Role[1] (Set Role)

Jun 2, 2017 11:25:11 AM SEVERE: +- Nominal to Text[1] (Nominal to Text)

Jun 2, 2017 11:25:11 AM SEVERE: +- Create Document[1] (Create Document)

Jun 2, 2017 11:25:11 AM SEVERE: +- Process Documents from Data (2)[1] (Process Documents from Data)

Jun 2, 2017 11:25:11 AM SEVERE: subprocess 'Vector Creation'

Jun 2, 2017 11:25:11 AM SEVERE: | +- Tokenize[400] (Tokenize)

Jun 2, 2017 11:25:11 AM SEVERE: | +- Transform Cases[400] (Transform Cases)

Jun 2, 2017 11:25:11 AM SEVERE: | +- Filter Stopwords (English)[400] (Filter Stopwords (English))

Jun 2, 2017 11:25:11 AM SEVERE: +- Store Words[1] (Store)

Jun 2, 2017 11:25:11 AM SEVERE: +- Cross Validation[1] (Cross Validation)

Jun 2, 2017 11:25:11 AM SEVERE: subprocess 'Training'

Jun 2, 2017 11:25:11 AM SEVERE: | | +- SVM[11] (Support Vector Machine)

Jun 2, 2017 11:25:11 AM SEVERE: subprocess 'Testing'

Jun 2, 2017 11:25:11 AM SEVERE: | +- Apply Model[10] (Apply Model)

Jun 2, 2017 11:25:11 AM SEVERE: | +- Performance (2)[10] (Performance (Binominal Classification))

Jun 2, 2017 11:25:11 AM SEVERE: ==> +- Store (3)[1] (Store)

Jun 2, 2017 11:25:11 AM SEVERE: +- Performance to Data[0] (Performance to Data)

Jun 2, 2017 11:25:11 AM SEVERE: +- Store[0] (Store)

Jun 2, 2017 11:25:11 AM SEVERE: +- Publish to App[0] (Publish to App)

Jun 2, 2017 11:25:11 AM SEVERE: +- Weight by Information Gain[0] (Weight by Information Gain)

Jun 2, 2017 11:25:11 AM SEVERE: +- Store (2)[0] (Store)

Jun 2, 2017 11:25:11 AM SEVERE: +- Publish to App (2)[0] (Publish to App)

Jun 2, 2017 11:25:11 AM SEVERE: +- Retrieve Words[0] (Retrieve)

Jun 2, 2017 11:25:11 AM SEVERE: +- Process Documents[0] (Process Documents)

Jun 2, 2017 11:25:11 AM SEVERE: subprocess 'Vector Creation'

Jun 2, 2017 11:25:11 AM SEVERE: | +- Tokenize (2)[0] (Tokenize)

Jun 2, 2017 11:25:11 AM SEVERE: | +- Transform Cases (2)[0] (Transform Cases)

Jun 2, 2017 11:25:11 AM SEVERE: | +- Filter Tokens (by Length)[0] (Filter Tokens (by Length))

Jun 2, 2017 11:25:11 AM SEVERE: | +- Filter Stopwords (2)[0] (Filter Stopwords (English))

Jun 2, 2017 11:25:11 AM SEVERE: +- Retrieve Model_Rep[0] (Retrieve)

Jun 2, 2017 11:25:11 AM SEVERE: +- Apply Model (2)[0] (Apply Model)

Jun 2, 2017 11:25:11 AM SEVERE: +- Select Attributes[0] (Select Attributes)
Tagged: