Understand GBT Model Output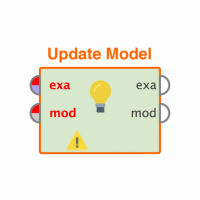 shraddha_neema
Member
Posts: 7
Contributor I
edited November 2018
in Help
Hello,
Any help in this matter would be really appreciated. 
I am using  GBT operator to train my model on a customer churn example set. I received approx. 80 % accuracy with GBT Model. Now my issue is to how do I related this GBT model output with business processes.
How should I communicate the GBT results with business folks to understand why specific customer is churn and what variables contributed to Terminated status instead of Active customer status.
Another question I have in mind is, How do I calculate the threshold variable limits that make customers to change their mind? That way we can watchful on certain metrics to prevent churn.  
Here is the result from GBT model
Model Metrics Type: Binomial
 Description: N/A
 model id: rm-h2o-model-gradient_boosted_trees-422159
 frame id: rm-h2o-frame-gradient_boosted_trees-324798
 MSE: 0.10739042
 R^2: 0.5584855
 AUC: 0.9389837
 logloss: 0.35373378
 CM: Confusion Matrix (vertical: actual; across: predicted):
                      Active                Terminated             Error           Rate
Active                                 590                   139  0.1907  =   139 / 729
Terminated                              53                   470  0.1013  =    53 / 523
              Totals                   643                   609  0.1534  = 192 / 1,252
Gains/Lift Table (Avg response rate: 41.77 %):
Group  Cumulative Data Fraction  Lower Threshold      Lift  Cumulative Lift  Response Rate  Cumulative Response Rate  Capture Rate  Cumulative Capture Rate         Gain  Cumulative Gain
      1                0.01038339         0.926587  2.393881         2.393881       1.000000                  1.000000      0.024857                 0.024857   139.388145       139.388145
      2                0.02076677         0.926248  2.393881         2.393881       1.000000                  1.000000      0.024857                 0.049713   139.388145       139.388145
      3                0.03035144         0.926021  2.393881         2.393881       1.000000                  1.000000      0.022945                 0.072658   139.388145       139.388145
      4                0.04073482         0.925124  2.393881         2.393881       1.000000                  1.000000      0.024857                 0.097514   139.388145       139.388145
      5                0.05111821         0.924748  2.393881         2.393881       1.000000                  1.000000      0.024857                 0.122371   139.388145       139.388145
      6                0.10063898         0.913532  2.393881         2.393881       1.000000                  1.000000      0.118547                 0.240918   139.388145       139.388145
      7                0.15015974         0.872454  2.393881         2.393881       1.000000                  1.000000      0.118547                 0.359465   139.388145       139.388145
      8                0.20047923         0.754298  2.355883         2.384344       0.984127                  0.996016      0.118547                 0.478011   135.588333       138.434408
      9                0.30031949         0.570023  1.953407         2.241081       0.816000                  0.936170      0.195029                 0.673040    95.340727       124.108051
     10                0.40015974         0.429297  1.378876         2.025960       0.576000                  0.846307      0.137667                 0.810707    37.887572       102.595955
     11                0.50000000         0.326709  0.957553         1.812620       0.400000                  0.757188      0.095602                 0.906310    -4.244742        81.261950
     12                0.59984026         0.267012  0.459625         1.587421       0.192000                  0.663116      0.045889                 0.952199   -54.037476        58.742072
     13                0.69968051         0.227460  0.344719         1.410095       0.144000                  0.589041      0.034417                 0.986616   -65.528107        41.009455
     14                0.80031949         0.103437  0.132993         1.249501       0.055556                  0.521956      0.013384                 1.000000   -86.700659        24.950100
     15                0.90095847         0.068919  0.000000         1.109929       0.000000                  0.463652      0.000000                 1.000000  -100.000000        10.992908
     16                1.00000000         0.057902  0.000000         1.000000       0.000000                  0.417732      0.000000                 1.000000  -100.000000         0.000000
| | | | |
| --- | --- | --- | --- |
|                    Variable | Relative Importance | Scaled Importance | Percentage |
| Field1 | 445.525879 | 1 | 0.49061 |
| Field2 | 158.352005 | 0.355427 | 0.174376 |
| Field3 | 93.245522 | 0.209293 | 0.102681 |
| Field4 | 51.406567 | 0.115384 | 0.056609 |
| Field5 | 34.961025 | 0.078471 | 0.038499 |
| Field6 | 26.576853 | 0.059653 | 0.029266 |
| Field7 | 19.5725 | 0.043931 | 0.021553 |
| Field8 | 19.506002 | 0.043782 | 0.02148 |
| Field9 | 19.407133 | 0.04356 | 0.021371 |
| Field10 | 13.182694 | 0.029589 | 0.014517 |
| Field11 | 11.111937 | 0.024941 | 0.012236 |
| Field12 | 4.461669 | 0.010014 | 0.004913 |
| Field13 | 3.955152 | 0.008877 | 0.004355 |
| Field14 | 3.564302 | 0.008 | 0.003925 |
| Field15 | 3.276087 | 0.007353 | 0.003608 |
| Field16 | 0 | 0 | 0 |
Thank You