Whats wrong with this model application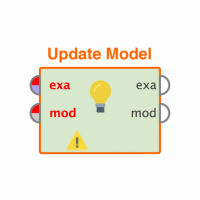 michaelhecht
Member
Posts: 89
Guru
edited November 2018
in Help
Hello,
I just wanted to find the optimum parameter set on labeled data and afterwards to apply it on new, unlabeled data.
The data has two columns x and y (called OCM here). Reading only one column for the application of model
failed, i.e. RM told me that two columns are needed (Im sure this is a beginners error 
). Therefore I applied
a two column file where I set all y-values to zero. As a result I got no prediction on the x-values but all values zero.
Hmmm ... I don't really understand how RM "thinks", so what's wrong?
Here is the code:

<operator name="Root" class="Process" expanded="yes">
    <operator name="MemoryCleanUp" class="MemoryCleanUp">
    </operator>
    <operator name="SimpleExampleSource" class="SimpleExampleSource">
        <parameter key="filename"	value="X:\HE\ModelleUntersuchungen\DataMining\PolyNomApproximation\ozm_svm.txt"/>
        <parameter key="read_attribute_names"	value="true"/>
        <parameter key="label_name"	value="OCM"/>
        <parameter key="label_column"	value="2"/>
    </operator>
    <operator name="OperatorChain" class="OperatorChain" expanded="yes">
        <operator name="GridParameterOptimization" class="GridParameterOptimization" expanded="yes">
            <list key="parameters">
              <parameter key="Learner.N"	value="true,false"/>
              <parameter key="Learner.U"	value="true,false"/>
              <parameter key="Learner.R"	value="true,false"/>
              <parameter key="Learner.M"	value="[4.0;8.0;4;linear]"/>
              <parameter key="Learner.L"	value="true,false"/>
            </list>
            <operator name="XValidation" class="XValidation" expanded="yes">
                <parameter key="keep_example_set"	value="true"/>
                <operator name="Learner" class="W-M5P">
                    <parameter key="keep_example_set"	value="true"/>
                    <parameter key="M"	value="8.0"/>
                </operator>
                <operator name="OperatorChain (3)" class="OperatorChain" expanded="yes">
                    <operator name="ModelApplier" class="ModelApplier">
                        <list key="application_parameters">
                        </list>
                    </operator>
                    <operator name="Performance" class="Performance">
                    </operator>
                </operator>
            </operator>
        </operator>
    </operator>
    <operator name="OperatorChain (2)" class="OperatorChain" expanded="yes">
        <operator name="SimpleExampleSource (2)" class="SimpleExampleSource">
            <parameter key="filename"	value="X:\HE\ModelleUntersuchungen\DataMining\PolyNomApproximation\ozm_svmTest.txt"/>
            <parameter key="read_attribute_names"	value="true"/>
            <parameter key="label_name"	value="OCM"/>
            <parameter key="label_column"	value="2"/>
        </operator>
        <operator name="ParameterSetter" class="ParameterSetter">
            <list key="name_map">
              <parameter key="Learner"	value="Applier"/>
            </list>
        </operator>
        <operator name="Applier" class="W-M5P">
            <parameter key="keep_example_set"	value="true"/>
            <parameter key="N"	value="true"/>
            <parameter key="U"	value="true"/>
            <parameter key="R"	value="true"/>
            <parameter key="L"	value="true"/>
        </operator>
        <operator name="ModelApplier (2)" class="ModelApplier">
            <list key="application_parameters">
            </list>
            <parameter key="create_view"	value="true"/>
        </operator>
    </operator>
</operator>

And here is the really simple data:

CAE	OCM
0	0.482
0.02	0.460
0.03	0.414
0.04	0.365
0.05	0.323
0.06	0.352
0.07	0.479
0.08	0.470
0.09	0.550
0.1	0.563
0.11	0.545
0.12	0.669
0.13	0.608
0.14	0.599
0.15	0.546
0.16	0.508
0.17	0.455
0.18	0.424
0.19	0.443
0.2	0.459
0.21	0.412
0.22	0.427
0.23	0.429
0.25	0.478
0.26	0.477
0.27	0.475
0.46	0.397
0.47	0.371
0.48	0.320
0.49	0.287