JSON to data and de-pivot for exampleset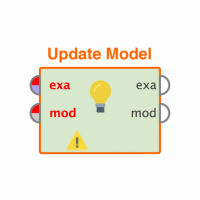 alex_fawzi
Member
Posts: 6
Contributor I
edited November 2018
in Help
I'm having a 'mare trying to get some data to de-pivot from json... 
The below process gets data from Poloniex in json format. The first row works fine and the exampleset is generated as I'd like, the other 2 (the orderbook and historical trades) I just can't get my head around. The Poloniex public api info is here https://poloniex.com/support/api/ but seems to be outdated. Any help would be appreciated.
I came across another post whilst trying to figure out how to use the json file which gave me the de-pivot, I also found one using the json -> xml & xpath way but it seems like json -> data and de-pivot should work.
<?xml version="1.0" encoding="UTF-8"?><process version="7.6.001">
  <operator activated="true" class="web:get_webpage" compatibility="7.3.000" expanded="true" height="68" name="Get Page" width="90" x="45" y="34">
    <parameter key="url" value="https://poloniex.com/public?command=returnChartData&amp;currencyPair=BTC_XMR&amp;end=9999999999&amp;period=7200&amp;start=1505057287"/>
    <parameter key="random_user_agent" value="false"/>
    <parameter key="connection_timeout" value="10000"/>
    <parameter key="read_timeout" value="10000"/>
    <parameter key="follow_redirects" value="true"/>
    <parameter key="accept_cookies" value="none"/>
    <parameter key="cookie_scope" value="global"/>
    <parameter key="request_method" value="GET"/>
    <list key="query_parameters"/>
    <list key="request_properties"/>
    <parameter key="override_encoding" value="false"/>
    <parameter key="encoding" value="SYSTEM"/>
    <description align="center" color="orange" colored="true" width="126">Get historical price data</description>
  </operator>
</process>
<?xml version="1.0" encoding="UTF-8"?><process version="7.6.001">
  <operator activated="true" class="text:json_to_data" compatibility="7.4.001" expanded="true" height="82" name="JSON To Data" width="90" x="179" y="34">
    <parameter key="ignore_arrays" value="false"/>
    <parameter key="limit_attributes" value="false"/>
    <parameter key="skip_invalid_documents" value="false"/>
  </operator>
</process>
<?xml version="1.0" encoding="UTF-8"?><process version="7.6.001">
  <operator activated="true" class="web:get_webpage" compatibility="7.3.000" expanded="true" height="68" name="Get Page (2)" width="90" x="45" y="187">
    <parameter key="url" value="https://poloniex.com/public?command=returnTradeHistory&amp;currencyPair=BTC_XMR"/>
    <parameter key="random_user_agent" value="false"/>
    <parameter key="connection_timeout" value="10000"/>
    <parameter key="read_timeout" value="10000"/>
    <parameter key="follow_redirects" value="true"/>
    <parameter key="accept_cookies" value="none"/>
    <parameter key="cookie_scope" value="global"/>
    <parameter key="request_method" value="GET"/>
    <list key="query_parameters"/>
    <list key="request_properties"/>
    <parameter key="override_encoding" value="false"/>
    <parameter key="encoding" value="SYSTEM"/>
    <description align="center" color="orange" colored="true" width="126">Get historical trade data (last month / 50,000 trades (API limit))</description>
  </operator>
</process>
<?xml version="1.0" encoding="UTF-8"?><process version="7.6.001">
  <operator activated="true" class="text:json_to_data" compatibility="7.4.001" expanded="true" height="82" name="JSON To Data (2)" width="90" x="179" y="187">
    <parameter key="ignore_arrays" value="false"/>
    <parameter key="limit_attributes" value="false"/>
    <parameter key="skip_invalid_documents" value="false"/>
  </operator>
</process>
<?xml version="1.0" encoding="UTF-8"?><process version="7.6.001">
  <operator activated="true" class="de_pivot" compatibility="7.6.001" expanded="true" height="82" name="De-Pivot (2)" width="90" x="313" y="187">
    <list key="attribute_name">
      <parameter key="amount" value="amount"/>
      <parameter key="date" value="date"/>
      <parameter key="globalTradeID" value="globalTradeID"/>
      <parameter key="rate" value="rate"/>
      <parameter key="total" value="total"/>
      <parameter key="tradeID" value="tradeID"/>
    </list>
    <parameter key="index_attribute" value="id"/>
    <parameter key="create_nominal_index" value="false"/>
    <parameter key="keep_missings" value="false"/>
  </operator>
</process>
<?xml version="1.0" encoding="UTF-8"?><process version="7.6.001">
  <operator activated="true" class="web:get_webpage" compatibility="7.3.000" expanded="true" height="68" name="Get Page (3)" width="90" x="45" y="340">
    <parameter key="url" value="https://poloniex.com/public?command=returnOrderBook&amp;currencyPair=BTC_XMR&amp;depth=10&amp;start=1505057287end=9999999999"/>
    <parameter key="random_user_agent" value="false"/>
    <parameter key="connection_timeout" value="10000"/>
    <parameter key="read_timeout" value="10000"/>
    <parameter key="follow_redirects" value="true"/>
    <parameter key="accept_cookies" value="none"/>
    <parameter key="cookie_scope" value="global"/>
    <parameter key="request_method" value="GET"/>
    <list key="query_parameters"/>
    <list key="request_properties"/>
    <parameter key="override_encoding" value="false"/>
    <parameter key="encoding" value="SYSTEM"/>
    <description align="center" color="orange" colored="true" width="126">Get orderbook data</description>
  </operator>
</process>
<?xml version="1.0" encoding="UTF-8"?><process version="7.6.001">
  <operator activated="true" class="text:json_to_data" compatibility="7.4.001" expanded="true" height="82" name="JSON To Data (3)" width="90" x="179" y="340">
    <parameter key="ignore_arrays" value="false"/>
    <parameter key="limit_attributes" value="false"/>
    <parameter key="skip_invalid_documents" value="false"/>
  </operator>
</process>
<?xml version="1.0" encoding="UTF-8"?><process version="7.6.001">
  <operator activated="true" class="de_pivot" compatibility="7.6.001" expanded="true" height="82" name="De-Pivot" width="90" x="313" y="34">
    <list key="attribute_name">
      <parameter key="close" value="\[\d+\]\.close"/>
      <parameter key="high" value="\[\d+\]\.high"/>
      <parameter key="low" value="\[\d+\]\.low"/>
      <parameter key="open" value="\[\d+\]\.open"/>
      <parameter key="date" value="\[\d+\]\.date"/>
      <parameter key="volume" value="\[\d+\]\.volume"/>
      <parameter key="quoteVolume" value="\[\d+\]\.quoteVolume"/>
      <parameter key="weightedAverage" value="\[\d+\]\.weightedAverage"/>
    </list>
    <parameter key="index_attribute" value="id"/>
    <parameter key="create_nominal_index" value="false"/>
    <parameter key="keep_missings" value="false"/>
  </operator>
</process>
<?xml version="1.0" encoding="UTF-8"?><process version="7.6.001">
  <operator activated="true" class="de_pivot" compatibility="7.6.001" expanded="true" height="82" name="De-Pivot (3)" width="90" x="313" y="340">
    <list key="attribute_name">
      <parameter key="asks" value="asks"/>
      <parameter key="bids" value="bids"/>
    </list>
    <parameter key="index_attribute" value="id"/>
    <parameter key="create_nominal_index" value="false"/>
    <parameter key="keep_missings" value="false"/>
  </operator>
</process>

Thanks,
Alex
Tagged: