How future predictions can be made with a Time Series model in RapidMiner?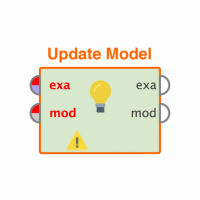 luc_bartkowski
Member
Posts: 46
Maven
edited November 2018
in Help
I guess this topic is the most asked question regarding RapidMiner Time Series Prediction. Some examples:
We all ask the same question.
We want to be able to do predictions for tomorrow, next week(s), next month(s), whatever the horizon and the dimension of time is.
Some have even asked the same question multiple times in their topic/post as if the question is not clear.
Therefore the following picture, it illustrates the question.
How to:
Calculate the prediction on Oct 5 (black markup);
Using the "-0 attributes" from the Windowing operator (blue markup);
In order to predict (orange arrow) the unknown future Last value on Oct 5 (red markup);
In the same way the "-0 attributes" (brown markup) are used to calculate the predictions (yellow markup) in the train/validation/test example set;
But without being able to use the unknown future Last value (red markup) as a label (green markup)?
The only answer with a possible solution is from @Thomas_Ott: http://community.rapidminer.com/t5/Getting-Started-Forum/Time-Series-Forecasting-for-Data/m-p/37315 . His answer links to a XML RM-process in http://community.rapidminer.com/t5/RapidMiner-Studio-Forum/Recall-Error/m-p/37302#U37302. That XML implements a  complex process including manipulation of macros, multiple windowing operators in series, remember/recall and loop operators and even a "Materialize Data" operator to free-up memory in RapidMiner. The process is also based on the Yahoo Historical Data operator that unfortunately doesn't work anymore. I'm therefore not even sure if this process answers the question of this topic. Is there a more simple process/solution available to answer the question of this topic? 
Thanks,
Luc
Tagged: