Keras SP 500 sample to LSTM conversion doesn't work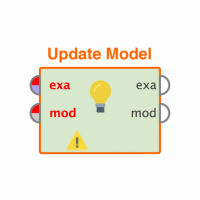 romanstrijbos
Member
Posts: 4
Contributor I
Hey guys,
I've been fooling around with the new Keras toolkit for Rapidminer. Great stuff! Also very complicated as i'm not yet familiar with Keras and Tensorflow. 
That is why i'm fooling around with the sample processes provided in the package: I'm trying to convert the SP 500 sample project  from a convolutional model to a LSTM recurrent model. I found a Github repository where some guy did this: he combined 2 LSTM layers with a couple of dropout layers. Source: Link I just tried to replicate this layer structure via the Keras layers in Rapidminer but it won't work.
I think there is something wrong with the 'input shape' setting of the Keras Model operator. Also I can't find some of the functionalities of the layers on github in the operator (like return_sequences).
I'll post the code below. I didn't really change the process. Just used the same dataset and switched the inside operators of the keras model to something similar to the python code I posted above (just some LSTM layers).
Does anyone have an example of a working LSTM rapidminer project or can help me with my project? Hope you guys can help me out! Thanks in advance.
<?xml version="1.0" encoding="UTF-8"?><process version="7.6.001">
  <context>
    <input/>
    <output/>
    <macros/>
  </context>
  <operator activated="true" class="process" compatibility="7.6.001" expanded="true" name="Process">
    <process expanded="true">
      <operator activated="true" class="retrieve" compatibility="7.6.001" expanded="true" height="68" name="Retrieve s&amp;p-500-data" width="90" x="45" y="85">
        <parameter key="repository_entry" value="//Keras Samples/sp_500_regression/s&amp;p-500-data"/>
      </operator>
      <operator activated="true" class="select_attributes" compatibility="7.6.001" expanded="true" height="82" name="Select Attributes" width="90" x="179" y="85">
        <parameter key="attribute_filter_type" value="single"/>
        <parameter key="attribute" value="Close"/>
        <parameter key="attributes" value="Date|Open|Close"/>
      </operator>
      <operator activated="true" class="normalize" compatibility="7.6.001" expanded="true" height="103" name="Normalize" width="90" x="313" y="85">
        <parameter key="attribute_filter_type" value="single"/>
        <parameter key="attribute" value="Close"/>
      </operator>
      <operator activated="true" class="series:windowing" compatibility="7.4.000" expanded="true" height="82" name="Windowing" width="90" x="447" y="85">
        <parameter key="window_size" value="30"/>
        <parameter key="label_attribute" value="Close"/>
      </operator>
      <operator activated="true" class="set_role" compatibility="7.6.001" expanded="true" height="82" name="Set Role" width="90" x="581" y="85">
        <parameter key="attribute_name" value="Close-29"/>
        <parameter key="target_role" value="label"/>
        <list key="set_additional_roles"/>
      </operator>
      <operator activated="true" class="split_data" compatibility="7.6.001" expanded="true" height="103" name="Split Data" width="90" x="581" y="238">
        <enumeration key="partitions">
          <parameter key="ratio" value="0.9"/>
          <parameter key="ratio" value="0.1"/>
        </enumeration>
        <parameter key="sampling_type" value="linear sampling"/>
      </operator>
      <operator activated="true" class="keras:sequential" compatibility="1.0.003" expanded="true" height="166" name="Keras Model" width="90" x="782" y="85">
        <parameter key="input shape" value="(1,0)"/>
        <parameter key="optimizer" value="RMSprop"/>
        <parameter key="learning rate" value="0.001"/>
        <enumeration key="metric"/>
        <parameter key="epochs" value="256"/>
        <enumeration key="callbacks">
          <parameter key="callbacks" value="TensorBoard(log_dir='./logs', histogram_freq=0, write_graph=True, write_images=False, embeddings_freq=0, embeddings_layer_names=None, embeddings_metadata=None)"/>
        </enumeration>
        <process expanded="true">
          <operator activated="true" class="keras:recurrent_layer" compatibility="1.0.003" expanded="true" height="82" name="Add Recurrent Layer" width="90" x="715" y="187">
            <parameter key="layer_type" value="LSTM"/>
          </operator>
          <operator activated="true" class="keras:core_layer" compatibility="1.0.003" expanded="true" height="68" name="Add Core Layer" width="90" x="313" y="34">
            <parameter key="dims" value="1.1"/>
          </operator>
          <operator activated="true" class="keras:core_layer" compatibility="1.0.003" expanded="true" height="82" name="Add Core Layer (2)" width="90" x="849" y="187">
            <parameter key="layer_type" value="Dropout"/>
            <parameter key="rate" value="0.2"/>
            <parameter key="dims" value="1.1"/>
          </operator>
          <operator activated="true" class="keras:recurrent_layer" compatibility="1.0.003" expanded="true" height="82" name="Add Recurrent Layer (2)" width="90" x="983" y="187">
            <parameter key="layer_type" value="LSTM"/>
          </operator>
          <operator activated="true" class="keras:core_layer" compatibility="1.0.003" expanded="true" height="82" name="Add Core Layer (3)" width="90" x="1117" y="187">
            <parameter key="layer_type" value="Dropout"/>
            <parameter key="rate" value="0.2"/>
            <parameter key="dims" value="1.1"/>
          </operator>
          <operator activated="true" class="keras:core_layer" compatibility="1.0.003" expanded="true" height="82" name="Add Core Layer (4)" width="90" x="1251" y="187">
            <parameter key="no_units" value="3"/>
            <parameter key="rate" value="0.2"/>
            <parameter key="dims" value="1.1"/>
          </operator>
          <operator activated="true" class="keras:core_layer" compatibility="1.0.003" expanded="true" height="82" name="Add Core Layer (5)" width="90" x="1385" y="187">
            <parameter key="layer_type" value="Activation"/>
            <parameter key="activation_function" value="'linear'"/>
            <parameter key="rate" value="0.2"/>
            <parameter key="dims" value="1.1"/>
          </operator>
          <connect from_op="Add Recurrent Layer" from_port="layers 1" to_op="Add Core Layer (2)" to_port="layers"/>
          <connect from_op="Add Core Layer (2)" from_port="layers 1" to_op="Add Recurrent Layer (2)" to_port="layers"/>
          <connect from_op="Add Recurrent Layer (2)" from_port="layers 1" to_op="Add Core Layer (3)" to_port="layers"/>
          <connect from_op="Add Core Layer (3)" from_port="layers 1" to_op="Add Core Layer (4)" to_port="layers"/>
          <connect from_op="Add Core Layer (4)" from_port="layers 1" to_op="Add Core Layer (5)" to_port="layers"/>
          <connect from_op="Add Core Layer (5)" from_port="layers 1" to_port="layers 1"/>
          <portSpacing port="sink_layers 1" spacing="0"/>
          <portSpacing port="sink_layers 2" spacing="0"/>
        </process>
      </operator>
      <operator activated="true" class="keras:apply" compatibility="1.0.003" expanded="true" height="82" name="Apply Keras Model" width="90" x="849" y="391">
        <parameter key="batch_size" value="128"/>
      </operator>
      <connect from_op="Retrieve s&amp;p-500-data" from_port="output" to_op="Select Attributes" to_port="example set input"/>
      <connect from_op="Select Attributes" from_port="example set output" to_op="Normalize" to_port="example set input"/>
      <connect from_op="Normalize" from_port="example set output" to_op="Windowing" to_port="example set input"/>
      <connect from_op="Windowing" from_port="example set output" to_op="Set Role" to_port="example set input"/>
      <connect from_op="Set Role" from_port="example set output" to_op="Split Data" to_port="example set"/>
      <connect from_op="Split Data" from_port="partition 1" to_op="Keras Model" to_port="training set"/>
      <connect from_op="Split Data" from_port="partition 2" to_op="Apply Keras Model" to_port="unlabelled data"/>
      <connect from_op="Keras Model" from_port="model" to_op="Apply Keras Model" to_port="model"/>
      <connect from_op="Apply Keras Model" from_port="labelled data" to_port="result 1"/>
      <portSpacing port="source_input 1" spacing="0"/>
      <portSpacing port="sink_result 1" spacing="0"/>
      <portSpacing port="sink_result 2" spacing="0"/>
    </process>
  </operator>
</process>