Need help for building a process based on historical data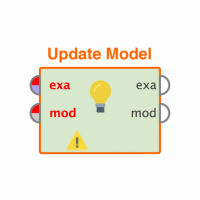 maurits_freriks
Member
Posts: 28
Contributor I
edited November 2018
in Help
Hi,
I'm kind of new here and would like to learn something from rapidminer.
I do have built my own process in paint and I would like to copy this into rapid miner with some operators. Below you could find my process:
Let me explain the basic idea:
The dataset contains a one-hour time interval of days, so a starttime and a endtime. As third column we do have the flow of gasoil. Now the goal is to find the gasoil of tomorrow based on the days before today (in my case it is 4 days, but it might be 7 or 10 or just 3, depends of the weights). With this as input I have to built something like a model which give my a output with an flow of tomorrow. This could ofcourse be tested on all my historical data. So for example The flow of 1 okt + 2 okt + 3 okt + 3 oktober --> 5 oktober.
In my opinion you will get a general weight of each D-1, D-2,D-3 ("today minus 1 day" , "today minus 2 days" etc.) in general. And you will put this into a model, could be linear or NN-network and there will be an output.
Is this realistic to built in Rapid Miner, please give me advice because I'm new and I really don't know how to start with rapid miner. Ofcourse you could sent me a private message for insights in my data.
Last question about my dataset: As you can see my dataset contains of 3 columns. The rows are the hours of the day. Do I have to preprocess my excel file such that I could work with days like my example or does RM do have something like an operater where you could split this automatically. Below I've draw an image.
So left my input and right the different "blocks" that I would like to make such that you have a certain time window. It might also be something like 6 or 8 or 12 hours blocks, depending on the outcomes. Does RM have an operator to split this and also could combine this in my final process which you can see in my first image.
Please let me know if you do have a solution for this case. Excuse me for my english!
With kind regards,
Maurits Freriks
Tagged: