Scripting mode for RM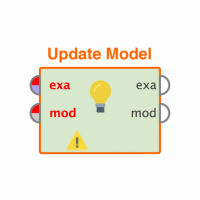 michaelhecht
Member
Posts: 89
Guru
Hello,

I'm really fascinated by the new Groovy-Script operator.

Now I have a really strange idea. Would it be possible to use RM comparable to
R, Scilab or Orange i.e. in a mode that I write only a RM-script with data loader,
data manipulation, learner and predictor and finally saving of results and
inbetween some shell output, diagrams or a little Groovy-GUI for interactive
processing?

Its clear to me that is in total contradiction to the graphical design of workflows.
On the other hand instead of writing Java applications with the use of RM library
one could write the entire (little) application inside RM using the Groovy-Script.
(which possibly needs the feature of loading modules for sub-routines to have a
slightly structured rogramming)

Finally the script could be compiled to a jar file and all necessary RM jar files
could automatically be placed together in a directory to run the former Groovy-Sript
as a stand-alone application.

Any comment on this?