Create Model from Rule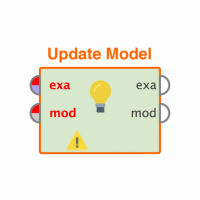 michaelgloven
RapidMiner Certified Analyst, Member
Posts: 46
Guru
edited November 2018
in Help
I have a known set of rules from an industry engineering document, expressed as a series of if-then-else statements and some engineering calculations. The output of these rules are similar to classification results in RM.
We do not have data underlying for these rules so we are unable to create models following the normal RM process of learning and training. Is there a way to input these explicit rules into a model and as we gather data over time apply this model to this data to validate the model? Normally, we start with data to create the model, but in this case we want to use RM to somehow create a model with known rules and then validate and improve over time. In summary, it'd be great if there was an easy way to enter the rules in a model independent of underlying data.
Any ideas are appreciated!