🦉&nbsp🎤&nbsp&nbsp&nbspRapidMiner Wisdom 2020 - CALL FOR SPEAKERS&nbsp&nbsp&nbsp🦉&nbsp🎤
We are inviting all community members to submit proposals to speak at Wisdom 2020 in Boston.
Whether it's a cool RapidMiner trick or a use case implementation, we want to see what you have.
Form link is below and deadline for submissions is November 15. See you in Boston!
Split the dataset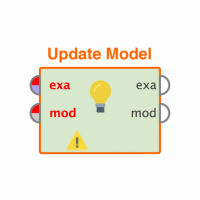 ikayunida123
Member
Posts: 17
Contributor I
Hello everyone!
So I'm doing a text classification right now. And I want to ask how to split the dataset into data training and data testing on Rapidminer. I know there are some operators like Split Data or Split Validation, but looks like it's splitting the data automatically(?) So I don't know which one is data training or which one is data testing.
My teacher wants me to compare the result of text classification that I'm doing manually and the result of my RapidMiner process. So I must make sure the data training or data testing in those two processes are same.
Please help me. Thank you :catvery-happy:
Tagged: